I usually wait until the end of the day to blog because then I have a day's worth of events to pick from. But this morning after I turned on the news, I knew exactly what I was going to blog about today... there's no need to wait.
And it's this... I am so fucking sick of stupid.
Honestly, I am beyond tired of the daily bombardment of stupid that assaults me on a daily basis. Turn on the television? Stupidity. Pick up a newspaper? Stupidity. Read a magazine? Stupidity. Cruise through the internet? Heinous stupidity.
And don't think for a minute I am excluding my own blog here. I fully admit that bitching about menial crap and drawing cartoons of drunken monkeys is far from brilliant. I may joke to the contrary, but I honestly have no pretense that Blogography is anything but "stupid crap daily." In fact, as anybody who was at TequilaCon can confirm, I proudly hand out buttons proclaiming just that...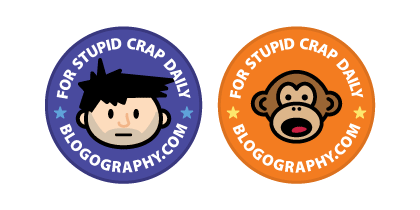 But the difference here is that I REALIZE this is all stupid crap, and can say with some confidence that MY stupid crap is pretty much harmless.
It's the people out there who actually BELIEVE their stupid crap... the people who are causing real damage with THEIR stupid crap... those are the ones who are making me fall to new depths of despair.
The relentless stream of hatred and intolerance. The ceaseless persecution in the name of religion and morality. The persistent propagation of lies and fraud. The never-ending pessimism and greed. There's no escaping it. For the longest time I've been able to find it all amusing by laughing it off. But it's getting harder and harder to do that. Things have gone from "so stupid it's funny" to "so stupid it's tragic."
In weighing my options for dealing with this unwelcome reality, I had seriously considered becoming an alcoholic, a drug addict, or anything that would make it easier not to care. But why punish myself for the failing of others? Why sell everything I own and run away into the mountains? Why go insane and have myself committed? Why stick my head in the microwave and turn it to maximum-defrost?
Turns out I like myself too much.
So I came up with a new solution to the problem when it was time to make my breakfast.
Introducing pudi-cake-a-cookie.
You start with a big dollop of chocolate pudding, float a Little Debbie "Devil Square" snack cake on it... put a dollop of pudding on top of that... stack another Devil Square cake on top... then garnish with another dollop of chocolate pudding and stick a Golden Oreo cookie on the top. Presto! Breakfast is served!
Delicious! It's hard to be angry at the stupidity of the world when you're eating a pudi-cake-a-cookie.
If only I could find a way to get some ice cream in there.
That may very well be the answer to my staying sane until the presidential election is over.