IRON MAN, BITCHES!!!
There was no real plan today. About the only thing any of us knew was that we were going to see Iron Man at 4:00. Everything else was just a matter of narrowing down the million options for things to do in New York City and picking something. Which is a heck of a lot more difficult than you'd think.
Down the street from our hotel is the beautiful Grand Central Station, so we stopped by for a quick look...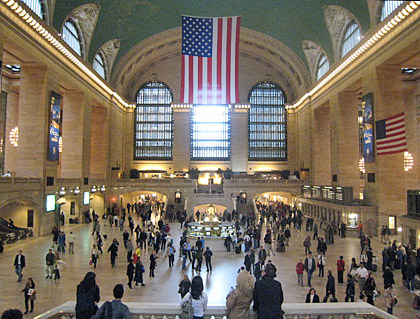 Eventually it was decided that the main goal for the day was to go up the Empire State Building for an aerial view of Manhattan. Unfortunately, New York City has been under a perpetual fog blanket all morning, and visibility at the top was zero, so we decided to take a pass. Instead we headed downtown to see what progress was being made at the World Trade Center site. Along the way, we passed by Macy's, which was hosting an exhibit of Iron Man movie props in their exterior displays. There were little pieces littered from window to window like Tony Stark business cards, prototype armor boots, and the electro-magnet that keeps Tony's heart beating...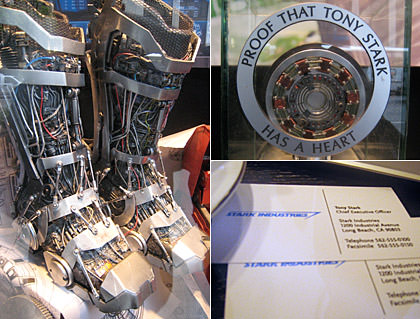 But the big prize was the Iron Man Mach-1 armor! Totally sweet!!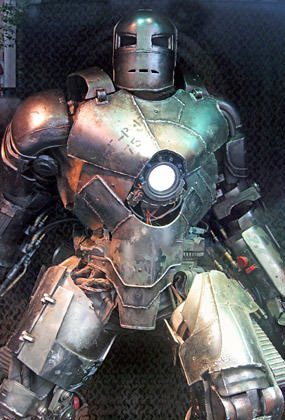 As if I didn't want to see the movie bad enough already!
The last time I was at WTC Ground Zero, there was still a lot of debris, but it's all gone now, and things are finally starting to take shape. It's no less emotional, however...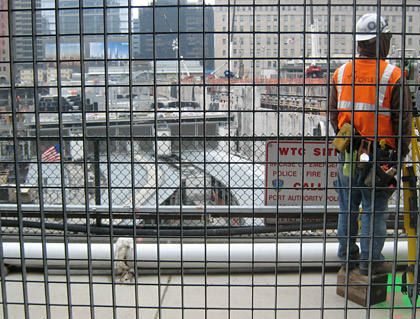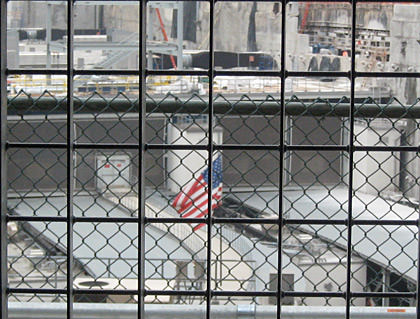 Unfortunately, it's really difficult to see anything. On the contrary, it's almost as if they were trying to obstruct your view of the site in every way possible. I have no idea what the reasoning is for this, but the only remotely viewable area is from a skybridge nearby...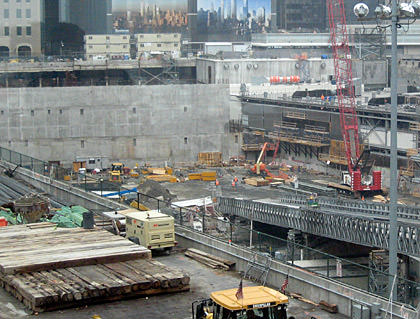 Back to the Empire State Building, where the fog looked like like it might be clearing up, but the operator assured us there was still no visibility at the top. Time for a "B-Plan." We headed up to Central Park to wander through The Metropolitan Museum of Art for a while...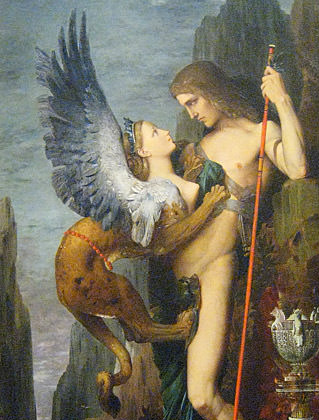 Then it was time to meet up with Eve and Dave3 from Geeks of Doom for IRON MAN!!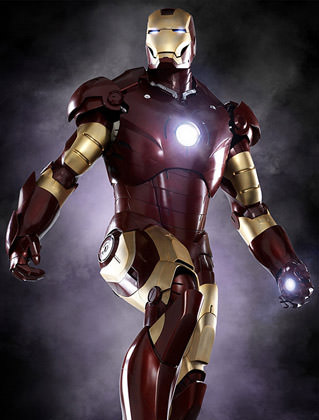 Totally awesome movie! I dare say it's the best super-hero comic book movie made since the original Superman and Superman II. As expected, Robert Downey Jr. was flawlessly brilliant in his portrayal of Tony Stark. It's hard to imagine how anybody else could have played the role, really. Plenty of action. Plenty of story. Totally faithful to the comic book source material. Can you really ask for anything else?
After an incredible vegetarian dinner at Quantum Leap in The Village, we ended the night at The Apple Store Soho.
And now it's 11:30 and time to rest-up for tomorrows pilgrimage to Philadelphia.
I can't wait.