Today I drove into the neighboring metropolis of Wenatchee, Washington for a hospital visit. I rarely drive into the city except to use the airport, but today I decided to take some back-roads to avoid the horrendous traffic on my way home.
And found out that everything had changed.
Wenatchee Valley College has radically expanded their campus... adding some small buildings along with one large building that's as big as the entire school was when I attended there. But that was just the beginning. Driving down the street I used to live on, I saw that almost all of the small orchards that used to line the road are gone... replaced with apartment complexes. New houses are crammed in everywhere. Street lights and traffic signals have been added to where there weren't street lights and traffic signals before. Crazy.
But that's just cosmetic.
There was another change awaiting me that was way more serious.
They moved a street!
After I got a veggie burger at the EZ Burger Drive-Thru for dinner, I was looping back around to go home when BLAM!!! I very nearly turned where a street didn't exist anymore. Apparently they decided to move the road so it would match up with the opposing cross-street to make a 4-way intersection...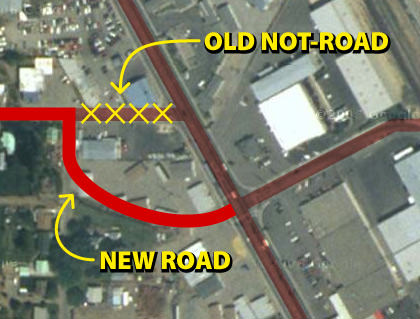 Which was kind of funny until I realized that had I not been paying attention, I could have ran my car onto the sidewalk and killed a nun.
A nun pushing a baby carriage.
A baby carriage with a baby in it.
Though it would obviously not be her baby because, well, you know...
Hmmm...
They probably give you the express lane to hell for that one.