It's a Three-Day Weekend Edition of Bullet Sunday here at Blogography!
• Meerkats. I am blogging early today, because there's a new Meerkat Manor Movie on Animal Planet Network tonight! A friend got me hooked on the show, which is like a really raunchy soap opera... but with cute furry animals instead of Joan Collins or J.R. Ewing. Sex, violence, betrayal, revenge, humor, life, death... Meerkat Manor has it all. This movie is supposed to go back to the beginning of the series to show how the meerkat Flower became leader of her tribe...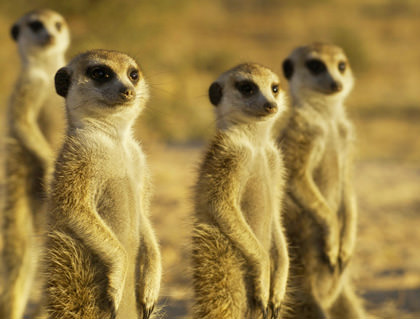 • Trainer. As I was pulling out the instruction booklet for my Epi-Pens, a plastic tube fell out. Wondering what it could be, I studied the label and found out it was a "Auto-Injector Training Device." Apparently, you are supposed to use it to practice stabbing yourself so you'll be ready if you should ever have to stab yourself with adrenaline for reals. To which I can only say "Oh hell no!" But then I stabbed a pillow with it and found out there's no needle inside, so now I'm having fun "stabbing" myself with it. I am so easily entertained.
• Karled. Thanks to Karl for having me on his Secondhand Radio show earlier today! The hour went by way too quickly, but you can catch it from the BlogTalk Radio archives here. Since time was tight, I didn't have time to pop up links to all the things we talked about, so here we go...
• Ordered. Pre-orders at the Artificial Duck Co. store will be ending Wednesday, May 28th of this coming week. I will order some extra hats and shirts to have on hand, but if you want to be sure of getting something you want, please order or email me with what you want so I can be sure I'll have it. I'm ordering plenty of extra playing cards, so those should be in stock for quite a while.
And that's all she wrote for now... because it's meerkat time...