Why is it that technology is making life simpler in every area of creation except when it comes to setting an alarm clock??!?
It used to be that to set the alarm, you press and hold the ALARM button and adjust the hours and minutes until you have the time you want to wake up. Then you slide the OFF/RADIO/BUZZER switch to BUZZER and you're done. That's three out of four buttons and a slider switch until F#@%ING DONE!!!
But not any more.
The alarm clock at my hotel has TWENTY-ONE F#@%ING BUTTONS PLUS A SLIDER SWITCH (for Mega Bass)...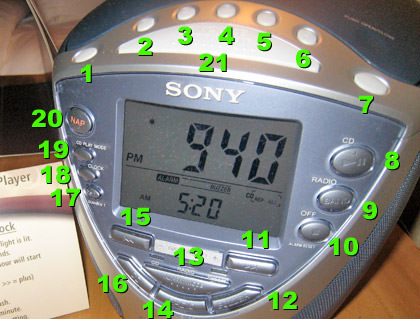 To set your alarm you have to go through FIVE STEPS, two of which you have to repeat, which means there's SEVEN F#@%ING STEPS to set an alarm! It's so absurdly complicated that they have to give you an instruction card to figure the shit out...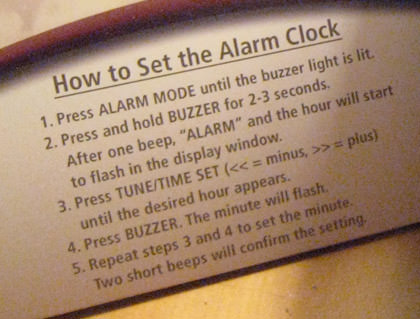 FAIL!!!
All the love I used to have for Sony products is gone. Because of this piece of shit alarm clock, I somehow didn't push enough buttons to set the alarm (even though the alarm indicator was lit?). So even though I got up at 4:30am and didn't need to be up until 6:00am, I was counting on the alarm to tell me what time I needed to stop working and get ready. But it didn't. Suddenly the extra time I had given myself to get ready and make it into the city for my meeting had evaporated because it was 6:45 by the time I looked over and noticed something was wrong.
Granted the stupid alarm clock has a CD player in it, but big f#@%ing deal... my iPhone has a MP3 player, clock, map, camera, calendar, calculator, notepad, web browser, and all kinds of other stuff in it... but has TWO BUTTONS!!
Half my kingdom for an Apple-designed alarm clock.
Work was at the delicious All-Candy Expo here in Chicago. I've bored everybody with accounts of all the cool stuff at the show in previous years, so I'll skip all that... but I did see two things that made me squeal like a little girl when I visited the PEZ booth. As long-time readers already know, I love PEZ. LOVE THE PEZ!!!
So imagine my delight when I saw that they are coming out with STAR TREK PEZ!!!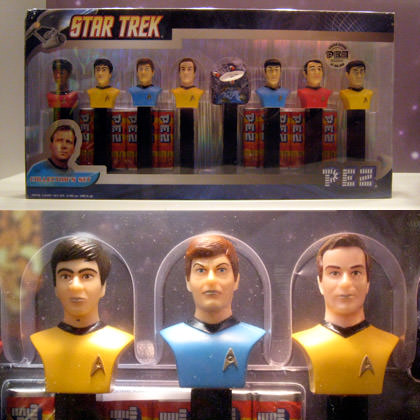 As if that wasn't enough, I turned the corner and saw one of the most amazing things ever... CHOCOLATE PEZ!!!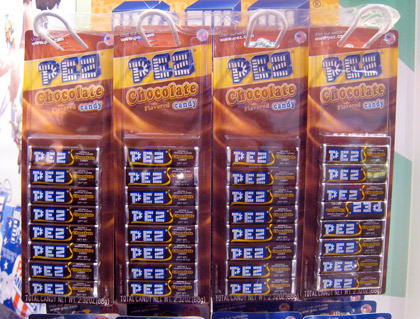 It's as if PEZ is starting to combine all the things I love best in life into a single product family. Next year I'm fully expecting that there will be an Elizabeth Hurley PEZ dispenser waiting for me.
After working the show for a bit, I was free for the day. Just two goals remained...
ONE... Go to America's Dog and get me a veggie-dog done up Chicago style (I was going to just put ketchup on it, but I didn't want to risk the wrath of RW's Hotdog Commandments!)...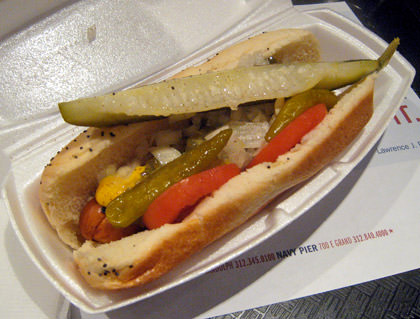 TWO... Make up for the shitty experience of watching the horrific movie tragedy known as Speed Racer by going and seeing Iron Man yet again. Which I did, at the magnificent Muvico 18 Theater in Rosemont...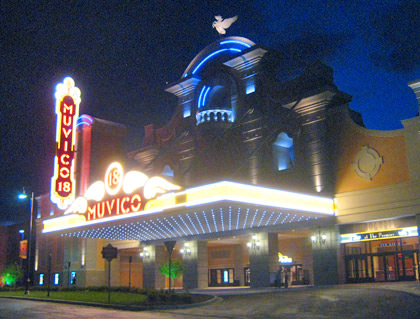 I paid for "VIP Premiere Seating" which puts you in the balcony in a huge comfy seat that's reserved for adults only, so you can take a beer into the theater with you! According to Wikipedia, the Muvico 18 Rosemont is the first theater in the country to have Sony SRX 4K digital cinema projectors in all auditoriums, which means the picture quality and sound were frakin' amazing.
This is my third time watching Iron Man, and I can honestly say that I love it more with each new viewing. I'll probably see it two or three more times before it leaves theaters. I just can't help myself. Robert Downey Jr.'s performance is so sublimely awesome in every way... from his impeccable comedic timing to his note-perfect delivery... that I am positively mesmerized by the character of Tony Stark. The fact that the movie RESPECTS THE F#@%ING SOURCE MATERIAL AT EVERY TURN is just icing on the cake. A big thank you to director Jon Favreau for having the intelligence to understand that there's a f#@%ing REASON that iconic comic book characters have endured for so long, and it is insanely arrogant and stupid to reinvent the wheel when you've already got something that works and people want to see.
And what I really need to see right now is a pillow, because I have to be to the airport in 5 hours.
Yay.