It's Bullet Sunday from lovely Salt Lake City, Utah!
Where I may very well be spending the entire day in bed.
• Skittles! OMG! WHY DID NOBODY TELL ME THAT THEY NOW MAKE CHOCOLATE-MIX SKITTLES?? Each bag-full has five yummy flavors: S'mores, Chocolate Caramel, Vanilla, Brownie Batter, and... wait for it... CHOCOLATE PUDDING, BITCHES!! Just look at my most excellent breakfast this morning...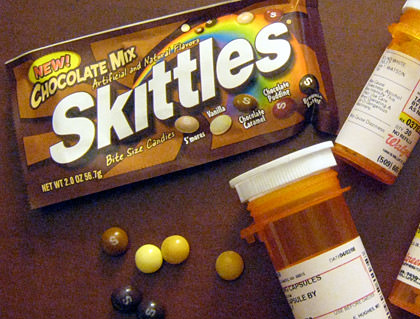 • Stones! But my happiness at discovering Chocolate Mix Skittles is seriously dampened by the constant mind-blowing pain of a kidney stone that has long since worn out its welcome. Unless doped up on drugs all day long, my entire groin aches as if I'm being kicked in the balls every two seconds...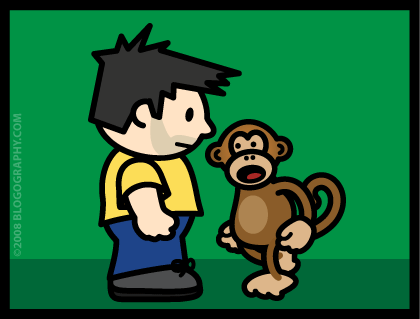 I am so ready for this to be over.
• Galactica! I was too drugged to watch the season premiere of Battlestar Galactica on Friday, so I've got it at home sitting on my TiVo. But I really wanted to watch it last night. First I tried every legal option available to me. iTunes Music Store? Not sold there. Streaming from the official site? Yes, but Sci-Fi Channel's streaming sucks ass by stalling every 10 seconds. BitTorrent it is then! This is really f#@%ing stupid on Sci-Fi Channel's part. Had they been selling their shows on iTunes, they would have got a double purchase from me... once so I could watch it now, and again when the DVD is released (just as I've bought all the other Battlestar Galactica DVDs). Why is it these dumb-f#@% networks STILL don't understand how to distribute their shit? They'd rather bitch and moan about how internet piracy is killing their profits WHEN THEY'RE THE DUMBASSES WHO CAUSE THE PIRACY IN THE FIRST PLACE!! Cry me a river, bitches. It's really a shame too, because this show is amazing. The space battles are about the best I've ever seen.
• Chilly! Long-time Blogography commenter and fellow blogger from Banal Leakage, Marty (better known here as ChillyWilly) was kind enough to bring along his fiance and join me for dinner at the Salt Lake City landmark: The Rio Grande Cafe. Since I was whacked out on pain-killers, who knows if I was coherent for the evening... but that's probably true whether I am drugged-up or not...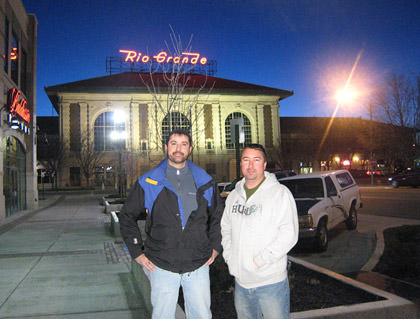 • Skank! On my way walking to dinner last night, a car full of girls at a stop light started screaming obscenities my way, saying things like "SOMEBODY NEEDS TO TEACH YOU TO FUCK LIKE A MAN!" I should have ignored them but, because this is me we're talking about, I screamed back "AND SOMEBODY NEEDS TO TEACH YOU TO DOUCHE YOU FILTHY WHORE!!" I didn't think anything of it until the three of us were walking back from The Gateway after dinner when another car of girls pulled up and started screaming crap like "YOU'RE THE KIND OF MAN I'M LOOKING FOR!" What the hell? But then it was explained to me that they were not yelling at me... they were yelling at the Mormons walking next to us. Remembering back, I realized that I probably wasn't the intended "victim" the first time either, because there was a group of Mormons walking behind me then (there's a huge convention for the Latter Day Saints Church here in town, so they're everywhere). Seriously, WTF?!? Dumbass ugly bitches in this city drive around screaming crap at Mormons to feel better about themselves? It wouldn't have been any less stupid had they been hot, but these were so not hot-looking babes. They were skanky trolls hanging out with other skanky trolls so they could make fun of clean-cut Mormon guys who are too decent and kind to fight back. I suppose for these ugly-ass skanks, it's the closest thing to being in a relationship with a man that they're going to get without a crack-pipe being involved. Is there anything more ironic and sad?
• Founded! Okay, I can't let this go... Salt Lake City was BUILT by Mormons. They MADE this place. This is THEIR city. The came here to make a home of their own after being persecuted everywhere else for their religious beliefs (go America!). You'd think that the butt-ugly bitches that drive around harassing Mormon guys would show a little fucking respect. You may not care for their religion, but is that any reason to treat them like crap in a city their people founded to get away from exactly this type of bullshit? Instead of tormenting guys who are just trying to live their lives in peace, why not go build your own city... a city where toxic ugly bitches can go be miserable without bugging the shit out of the rest of us. I wish society would fucking grow up and learn tolerance, because this stupid shit really sets me on edge.
• Beauty! And now, because I refuse to close out this entry with such ugliness, some photos I took on my trip yesterday...
While I was eating my Qdoba Breakfast Burrito, I looked out the giant glass windows of the Sea-Tac Airport food court and was stunned to see that a shaft of light was cutting through the horizon, illuminating the mountains in a way that made them look as if they were floating. I threw down my food and hauled ass towards the windows so I could capture the moment, but none of the pictures came close to reproducing the staggering sight. Perhaps if you use your imagination, you can kind of see what I'm talking about here...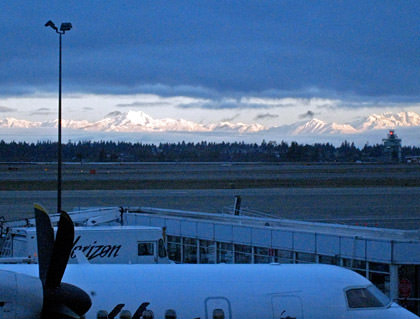 But not really. Oh well. It was truly jaw-dropping, and by the time I gave up trying to photography it, a bunch of people had crowded around the windows to take a look.
I've published so many from-the-air shots here, but I really liked the way this one turned out as I was flying over southern Idaho...
And, lastly, here's The Great Salt Lake as I descended into SLC...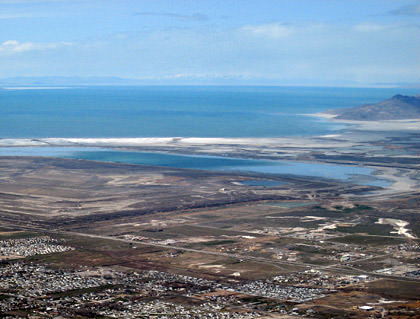 Breakfast has me feeling much better, so I think it might be time to get out of bed and go get some soup! I swear, some of the best soups on earth are to be found in Salt Lake City...