I had saved the two important outdoor activities I wanted to do in the hopes that the weather would improve. Which, of course, it did... while I was in Göteborg. The minute I get back to Oslo, the weather goes grey and snowy again. I'm lucky that way.
I started my day taking the T-Bahn up to the surrounding hills so I could visit the Holmenkollen ski jump. This is a famous landmark for Oslo, having been originally built in 1939, then used for the Olympic Games in 1952. It's going to be demolished any day now so they can build a new and improved jump tower for the 2011 FIS Nordic World Ski Championships. I guess this means I'm lucky to see a piece of history before it's gone...
In order to go up the jump tower, you have to buy a ticket to the Holmerkollen Ski Museum (which happens to be the oldest ski museum in the world). Inside you'll find all kinds of interesting stuff about the jump tower, along with a repository of ski equipment throughout the ages. Once you work your way through it all, you find a small elevator which takes you almost to the top. The last remaining bit requires you climb stairs...
This is not so easy for somebody with a fear of heights, but I eventually made it to the top for some really sweet views of Oslo...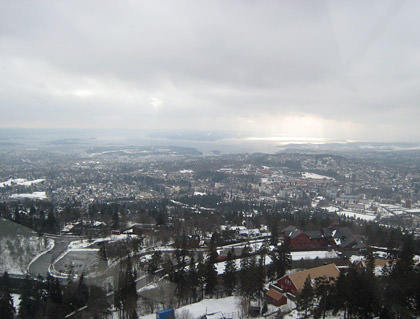 That part isn't so bad. It's when you look down the ski jump that your testicles retreat into your body cavity. I honestly don't know how ski jumpers do it...
I tried to get a photo that can illustrate just how frickin' steep the run is, but I failed miserably. As steep as it looks in this photo, it's far worse in real life...
After I stopped squealing like a little girl and made my way back down the tower, I headed off to Vigeland Sculpture Park. Or, as I like to call it, PERVY STATUE PARK! Sure it looks innocent enough as you go in. There's this beautiful metal gate towering over the entrance...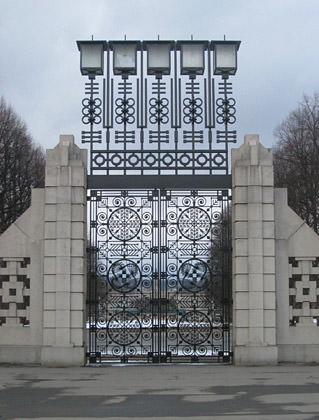 But the minutes you pass through, you enter another world entirely...
Now, from an artistic standpoint, the sculptures are absolutely amazing. It's not easy to form the human body into natural poses, let alone manipulate them so that they intertwine so beautifully. Some of the pieces are astounding in the way they capture the fluidity of the human body.
But that doesn't change the fact that some of them are downright pervy.
After the park I wandered around the city one last time. Along the way I visited The Museum of Decorative Arts and Design, which was very cool. They find art in everything from furniture and dishware to appliances and toothbrushes. I also by the Hard Rock Cafe so I could pick up a T-shirt and a few pins...
The building kind of reminds me of the Nottingham Hard Rock, which has sadly closed. Inside, it's a fairly nice property with a good assortment of memorabilia and some nifty touches I've not seen at other Hard Rocks.
Once I was done playing tourist, it was time to head to Karla and Rich's house for some of Karla's orgasm-inducing homemade guacamole and veggie quesadillas. She was kind enough not only to invite me over for dinner, but also took me to a pub so I could meet her friends and drink scary Norwegian beer. I can't think of a better way to spend my last night in Oslo, so thanks Karla!
Time to pack my suitcase and prepare for the long journey home.
Goodbye Norway.