Weird. Neighborhood dogs are barking at the eclipse and won't stop.
Can't say that I blame them. The lunar eclipse is approaching its zenith, and is starting to reveal the moon as this giant blood-red disc. It's breathtakingly beautiful, and I have a clear-skies view of it all.
Unfortunately, I don't have a camera even remotely capable of capturing the amazing sight out my window. All I get is a fuzzy smear that changes color every time I shoot the moon...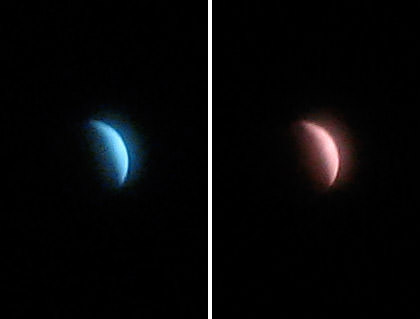 Anyway...
There's a "meme" of sorts blowing through the blogosphere, where people are making a list of stuff that's irritating the shit out of them. I debated whether or not to participate, but then came the morons at Citibank, with a phone call that went something like this...
CITIBANK: In order to assist you, I'll need your Social Security Number.

DAVE: Ummm... I'm calling about a credit card you sent me that I didn't request. I'm not going to give out personal information until you tell me why it was sent.

CITIBANK: Then I can't help you.

DAVE: Then please connect me to a supervisor.

CITIBANK: I cannot connect you to a supervisor until you give me your Social Security Number.

DAVE: Are you KIDDING me? I'm not giving you my Social Security Number! How do I know that you're actually Citibank?

CITIBANK: YOU called US from a number on the back of the card! Who else would we be?

DAVE: No. I called a number from the back of a card that I didn't request that could easily be a forgery in some elaborate attempt at identity theft.

CITIBANK: I am NOT able to help you until you give me your Social Security Number!

DAVE: Then you WILL put me through to a supervisor... and don't tell me you won't do it without my Social Security Number, because this is a serious situation and I am not taking "no" for an answer. This is a card that YOU sent me that I DID NOT REQUEST!! Don't make this be MY problem.

CITIBANK: I'm putting you through to security.
Then I had to go through the shit all over again, until the security guy finally told me that the account had been cancelled. But I'm still enraged that Citibank is so fucking stupid to treat people like this when identity theft is running rampant now-a-days. You would think that they would take something like this very seriously, and be more realistic about the information they require to handle something so critical. If somebody tells you that you've sent a credit card they never requested, you don't need a Social Security Number to investigate the situation. Dumbasses. Citibank's horrendously idiotic policy has me so floored that I am still deciding whether or not to take this up with VISA International.
And now, while I'm at it, here's some blog-related crap that I'm going to get off of my chest. Of course, none of this is about YOU, so don't worry about it. Unless, of course, it really is you...
• Don't Assume I Don't Have Family, Friends, or Relationships...
It's strange how some people believe that just because I choose not to write about something, it doesn't exist. And no matter how many times I try to make it clear that I don't discuss these subjects, it doesn't stop people from telling me that I need a girlfriend... or need to get laid... or that I'm lonely... or whatever. The truth is that they just don't know anything about this stuff unless they know me personally. To imply otherwise is just stupid.
• Don't Be Pissed Because I Won't Tell You About My Work or Personal Life...
Some people think that even though I don't talk about certain subjects in my blog, that I'm perfectly happy to reveal absolutely anything they want to know via email. When I write back and explain that I don't talk about my work or personal life with people who are not my friends or family, they tend to get upset. Apparently, these people feel that if they read Blogography every day, this entitles them access to all aspects of my life... no matter how private. Well, I have news for them, it doesn't.
• Don't Insist I Give A Crap About Your Abusive Ass...
When people email or comment only to be an ass, they might as well not comment at all. Disagreeing with me is fine, I respect the opinions of others and feel that diversity is what makes life interesting. But being an abusive dumbass flamer troll is an annoyance that I'm not willing to deal with (other than to click the delete button).
• Don't Think That I Feel I'm Better Than You...
This is the one that really bothers me. Every once in a while, I'll get an email from somebody who thinks that the reason I blog about my travels and the cool things I get to do is because I'm bragging or something. This is just silly. I blog about the crap that's happening in my life. So if I'm traveling, that's what I'm going to write about. If I were bragging or implying that I was superior because of it, I'd start each entry with "HA HA FUCKERS! GUESS WHERE I AM AT AND YOU'RE NOT?!? SUCKS TO BE YOU, LOSER!!" Believe me, I know how lucky I am that I get to see and do the stuff I get to see and do. But I also work very hard and make a lot of sacrifices to get there, so the last thing I'm going to do is "brag" about it.
And, on that note... HA HA FUCKERS! I'm off to book my flights and hotels for next month.