Well today sucked.
It seems as though life just keeps getting faster and faster, there's always more and more to do, and you have less and less time to do it. Most days I don't care, but today it all wore me down to the point of wanting to give up.
It's days like this I want to trade in my life, buy a cow, and go live on a farm in the middle of nowhere...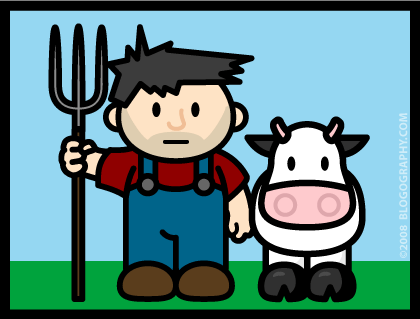 But instead I'm flying off to Portland for the weekend.
I'm kind of happy about that.
And now, from the Not-So-Sweet Irony Department...
PCWorld has an article on Yahoo! News where Michael Barrett, chief information security officer of PayPal, is telling their customers that Apple's Safari web browser isn't safe for online shopping...
"Apple, unfortunately, is lagging behind what they need to do, to protect their customers," Barrett said in an interview. "Our recommendation at this point, to our customers, is use Internet Explorer 7 or 8 when it comes out, or Firefox 2 or Firefox 3, or indeed Opera."
Oh really? Well here's what I have to say to Michael Barrett, chief information security officer of PayPal...
Fuck you.
Seriously, fuck you.
Because here's the thing... PayPal doesn't give a shit about their customers.
I used to use PayPal to run my online store... I was a PayPal customer. But one day PayPal reversed a transaction, and took my money. I contacted the person who owned the credit card to find out if they made a fraud complaint against me or something, but they didn't know why the charge was reversed. They got their T-shirts and were totally happy. I made several calls to PayPal for an explanation but, for "security reasons," they wouldn't tell me, nor would they tell me the name of the bank who made the request (if, indeed there ever was one). According to their service contract, they don't have to tell you shit. And, since they aren't a real bank, you have no recourse if they steal from you.
So, basically, PayPal will take your money at any time with no explanation. And yet they have the balls to warn people about getting ripped-off when using stuff from another company? What a bunch of hypocritical jerks.
On my farm, I won't need crap like PayPal... I'll just trade fresh milk and eggs for what I want to buy.
Though I'd imagine the quality of hooker you can get for a dozen eggs and a glass of milk is probably pretty questionable.