It's Oscar Sunday! Which would probably be a lot more exciting for me if I actually gave a crap about the Oscars. Oh well. I got my taxes done, AND it's Steve Jobs' birthday today, so that's pretty exciting.
• Portlandia... I am working in Portland, Oregon later this week, and am staying an extra day to goof around the city. If anybody in the area wants to meet for dinner on Saturday, just let me know!
• Oscars... Of the movies I've seen in 2007, my favorites (in order) are... Juno, 300, Waitress, Hot Fuzz, Curse of the Golden Flower, Paprika, The Man From Earth, Ratatouille, The Bourne Ultimatum, Once, Music & Lyrics, and Blades of Glory. I have not yet seen Michael Clayton, Lives of Others, The Diving Bell and the Butterfly, Persepolis, and Hannah Montana: Best of Both Worlds, but expect they will make the list as well...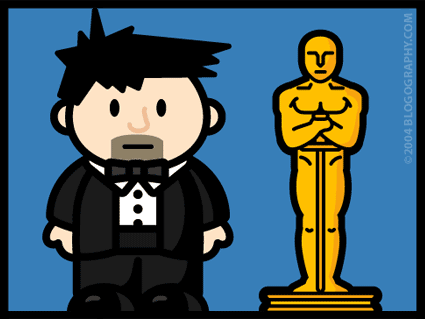 • Boyfriend... The latest meme crawling through the blogosphere is "Who Is My TV Boyfriend?" Since I love television, I was compelled to try it...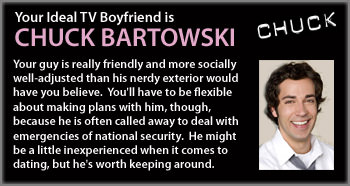 What the bloody heck? I can't STAND that whiny bitch Chuck Bartowski! I am very close to erasing Chuck off my TiVo's Season Pass list, because I am so sick of his bumbling idiocy. Why oh why couldn't I have gotten kick-ass Jack Bauer from 24 or Eli from Eli Stone? Jonny Lee Miller is ever so dreamy! Click here to find out who is YOUR ideal TV boyfriend. I couldn't find a "who is your ideal TV girlfriend, but I already know it would be the sweet hotness of Veronica Mars herself, Kristen Bell (who is now on Gossip Girl and Heroes, but will always be Veronica to me).
• Gelatinous... I was dismayed and disgusted to find out that the Hello Kitty Gummies I was raving about two days ago have yucky GELATIN in them. Gross! Shame on Kellogg's for putting that vile crap in their product when there are far better alternatives available (like citrus pectin). And shame on Sanrio for allowing Hello Kitty's reputation to suffer by licensing her to a company that would put dead animal cartilage in her gummies! This sucks ass.
• Ilusional... Found this sweet tutorial for an optical illusion which makes a black & white photo turn into a color photo (may not work in a feed-reader, you'll have to click through to see it). Just stare at the dot for 30 seconds, then mouse over the image without taking your eyes off that dot (it may help to put the mouse pointer next to the image so you can do the mouseover without having to look!). After you've seen the color photo, look away for ten seconds, then come back and look again...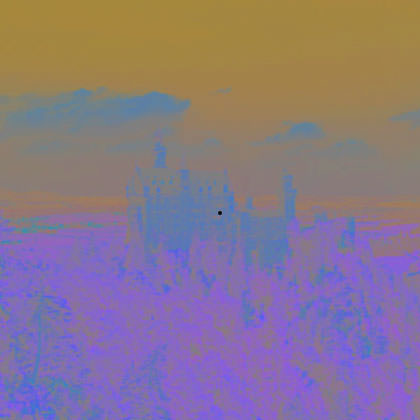 Hah! It's black & white! Sweet! That's a photo I took of Neuschwanstein Castle in Germany.
• Iron... I'm mainly a "DC Comics guy" because I'm into Batman and such, but there's one super-hero at Marvel of which I'm a major fan: Iron Man. I've been following the Iron Man movie updates over at Geeks of Doom with growing interest (Robert Downey Jr. as Tony Stark is genius casting!), and now see that somebody has new poster art and a description of the movie trailer from WonderCon. It sounds as through director Jon Favreau has totally nailed it, and I am really looking forward to the debut on May 2nd. Given my huge disappointment in the X-Men film franchise, it will be nice to have a good comic-to-movie flick from Marvel this time...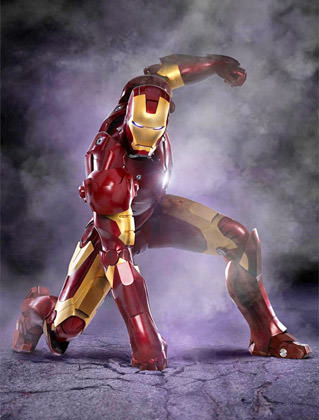 And there's another Bullet Sunday down the tubes. Time to wash clothes so I have something to wear to work in the morning.
Where did my weekend go?