Yeah, yeah, yeah... I know it's actually Monday... but it's a holiday Monday, which means it's almost like a Sunday. Kind of.
• Hoff... Managed to watch the new Knight Rider made-for-TV-movie last night. As one of my favorite shows from the 80's, I was both nervous and excited to see how they were going to handle the material. What they got right was not starting over from scratch, but instead making this show a continuation of the original series. I also enjoyed the cast, the cameo by David Hasselhoff, the new and improved abilities of K.I.T.T., and the overall storyline. What they got wrong... very, very, very wrong... was the voice of the car. The original K.I.T.T. (masterfully voiced by William Daniels) was a sarcastic bastard, who let his self-perceived superiority complex drip off of every word. Val Kilmer as the new K.I.T.T. just sounded bored. In all fairness, this might not be his fault... the guy is a talented actor who is probably just reading his lines as directed... but it really killed the show for me. Why the fuck didn't they just bring back Daniels? Oh well. The entire show was just a giant Ford commercial with Ford commercials inside the Ford commercials... so maybe product placement and ad revenue was what the showrunners really cared about...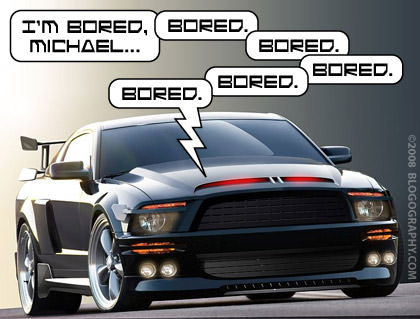 • XP... I've run across more than a couple grassroots movements attempting to save Windows XP from being dropped by Microsoft. Given how badly XP's successor, Windows Vista, COMPLETELY AND TOTALLY SUCKS ASS... I am 100% behind this effort. XP may not be pretty, but at least it actually works for those times I need a Windows machine. Here's hoping that Microsoft bothers to listen.
• Heaven... While my friend Perry and I were mucking about in Poland a couple weeks ago, we took a taxi driven by an 80-year-old driver who didn't speak much English. As he was barreling down the streets of Warsaw, a song came blasting on the radio that sounded familiar, but neither Perry or I could place it. Thinking I could look it up later, I jotted down some of the lyrics in my iPhone and promptly forgot about it. Eventually I happened upon my notes and Googled to discover that the song was "(Feels Like) Heaven" by Fiction Factory. Not finding anything on the iTunes Music Store (FOR SHAME!) I downloaded some tracks off BitTorrent and liked what I heard. This led me to order their CD, Throw The Warped Wheel Out, which finally arrived today. Oh how I love rediscovering great 80's music from my past! Just when I think there's no more to be found, something like this happens...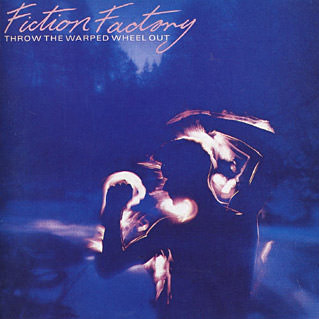 • Terminated. Despite myself, I am completely addicted to "Terminator: The Sarah Connor Chronicles." The quality of the show on almost every level has been surpassing my expectations more and more with each new episode. The abject despair of the future-humans under domination of SkyNet is almost painful to watch... just as it should be. The clever dance the writers are weaving around the continuity of the first two films is really impressive, and I can't wait to see where they take the story next...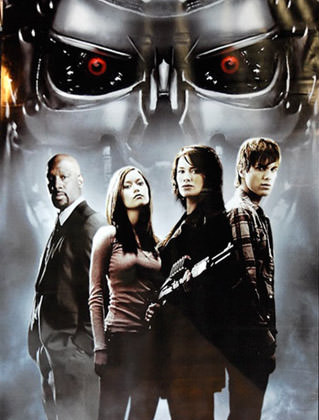 • Chicken... Today on the drive back home over the mountains, I stopped off for tacos and did my usual bit of requesting that the beef be replaced with rice. This caused the guy taking my order to ask if this was because I was concerned about the massive meat recall out of California. When I told him no, that I make the substitution because I am a vegetarian, he said that he was thinking of becoming a vegetarian too. The only problem was that he thought he'd get tired of eating chicken all the time. I was going to ask him exactly what kind of vegetable a chicken was, but ultimately decided against it. Maybe he'll get it all figured out when we get an outbreak of Mad Chicken Disease.
And there's my Bullet Sunday on Monday. I hope my brain can shut down tonight so I can get some real sleep. I'm entirely too tired of being tired to keep going without it.