Many of the streets here are covered with one to four inches of compact ice. This makes starting and stopping quite a chore. As I was leaving the office to go home and get some dinner, a massive trailer-truck came barreling up with his window rolled down and slammed on the brakes to ask me a question... and proceeded to skid twenty-five feet right on past past me. Without missing a beat, he asked a guy down the street for some directions. I laughed about this all the way home, but don't really know why.
Despite the icy roads, today was truly a beautiful day. Blue skies and sunshine all around.
The day after tomorrow is supposed to be similarly gorgeous.
But what's the forecast for TOMORROW when I am due to fly out?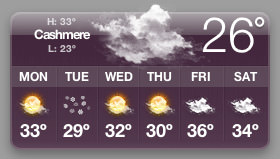 Yes, that's right snow. And not just a little snow, but a shitload of snow. I've heard "two feet" being bantered around in the forecast which, needless to say, would be extraordinarily bad. There would be no flying anywhere with two feet of snow being dumped on the airport.
Of course, given the accuracy of the weather forecast, I'm not starting to panic just yet.
Well, maybe a little bit.
Nah, not really. Whatever happens, happens.
Sigh. I have about five hours of work left tonight and I haven't even packed a suitcase. I'm beginning to think that I should just wear the same clothes for the entire week and not take a suitcase at all. So what if I end up a smelly mess? When traveling, that might actually be a benefit. Nothing says "LEAVE ME THE HELL ALONE, DUMBASS!" better than a week's worth of stench.
In other news, I have self-diagnosed myself with Restless Leg Syndrome.
I can't get comfortable at night because my legs get all achey and tingly, and I can't stop wiggling around. I'm thinking this might be adding to my insomnia problem. So now I need to get me some Requip. Except reading the "Possible Side Effects" on their web site has given me pause...
"Some patients taking ropinirole have shown urges to behave in a way unusual for them. Examples of this are an unusual urge to gamble or increased sexual urges and/or behaviors. If you or your family notices that you are developing any unusual behaviors, talk to your doctor."
That's all I need... to become a sex-crazed gambling addict (among other things... hallucinations? seriously??).
Although I am curious to know what bizarre sexual urges and behaviors I might develop.
A scorching case of sex addiction with a bit of a chocolate pudding fetish on top?
One can only hope.