Once again, a great (albeit way too short) vacation at Walt Disney World. After having avoided the place for five years, they finally added enough new attractions to bring me back, and I was not disappointed (particularly with Expedition Everest, which is amazing).
Which is not to say that there was not a major disappointment, because there was. My biggest gripe this time around? Shopping for souvenir gifts.
And I blame it on Caucasian Mickey Mouse.
For anybody who doesn't know, Mickey originally started out as a black and white character but, at some point in the 1940's, Disney decided to make Mickey be caucasian...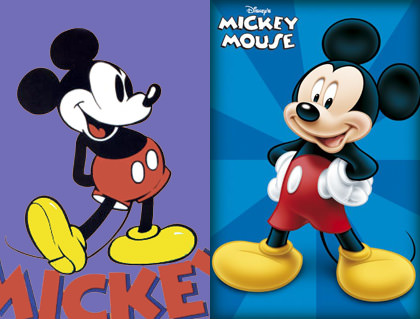 Because I feel that Mickey Mouse should transcend race, I am 4-square against Caucasian Mickey, and won't buy any merchandise he appears on. Unfortunately, most merchandise has the newer, unimproved mouse on it, so souvenir shopping for friends is difficult. Especially since most of the other souvenir crap has "Disney Princesses" on it (I've had my fill of bitchy princesses in real life) or Goofy (I find stupidity neither cute nor entertaining and loathe him). Oh well, the less there is to buy, the less money I have to spend.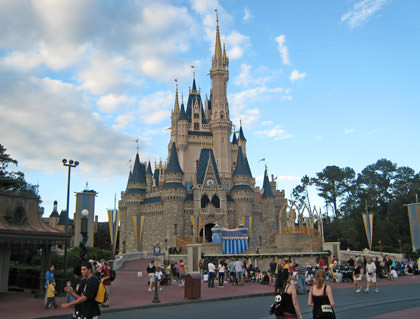 And that's the end of my Walt Disney World experience here at Blogography. But, before I go, here's a few things that might help you to plan your WDW magical dream vacation...
DAVE'S TOP FIVE WALT DISNEY WORLD TIPS...
Disney AAA Discount: If you are a AAA member, check out package pricing at your local office. On top of the AAA discount you'd normally get, they sometimes have special deals that could save you even more money. Never assume that a package with airfare is cheaper than buying the airfare separately... double check, because it's not always the case.
Disney Resort: There are numerous benefits to staying at a Disney Resort property within Walt Disney World, even though you pay more for it. Most important would be "Magic Hours" in which you get a rotating schedule of parks that have early/late hours especially for Disney guests. During these times, the lines are really short, and you can get some good ride-time in. You also get free transportation among the parks (or free parking, if you'd rather take your car), purchases can be charged to your room and delivered back to your room (no cash, no bags!), and more. As if that weren't enough, even the cheapest Disney resort is guaranteed to be clean, comfortable, and safe... and you get resort benefits regardless of which resort you choose, even if it's their "inexpensive" tier.
Disney Transport: While free to resort guests, Disney Transport is a bit of a mess. My guess is that it is designed to be that way. After all, if you've got a couple thousand people tied up in the transportation system, that's a couple thousand people not crowding up the parks. My advice is to stay out of the system as much as possible... don't park-hop unless you absolutely have to. Stay at one park and do everything you want to do there before moving on. This could save you hours of wasted time waiting for and riding the busses.
Disney Pricey: Once you step on to the Walt Disney World property, the cost of everything skyrockets. For my last several visits, I've packed a separate small suitcase full of snacks and drinks so I don't get nailed. Some expenses are unavoidable if you're staying at a resort property... like meals and WDW-branded souvenirs... but I end up saving quite a chunk of money when I don't have to pay for snacks there too.
Disney Reservations: I'm not a very big "detail planner" when it comes to my vacations, but if you want to eat at many of Disney's finer restaurants (such as any of the Epcot World Showcase full-service restaurants, or any of the "deluxe resort" full-service restaurants... like Artist Point or Whispering Canyon Cafe at The Wilderness Lodge) you must make reservations because they get booked up very quickly. Fortunately, if you are a Disney guest, you can make your reservations up to 180 days in advance by calling 407-WDW-DINE. Furthermore, the concierge at your Disney resort can also help you with reservations if you get to them early enough! Whenever I go to Walt Disney World, I spend more time scheduling my lunches and dinners than I do anything else, and advise other people to do the same if they plan on eating at any of the finer restaurants there.