I've been to more than a few places in the world and seen a lot of cool stuff in my travels but, at the moment, it all kind of pales before the grandeur that is Neuschwanstein (New Castle of the Swan). This is the "fairy tale" castle which inspired Disney for the various castles in their theme parks. Of course, the Disney versions cannot begin to match the location in which the original sits, where every view takes your breath away...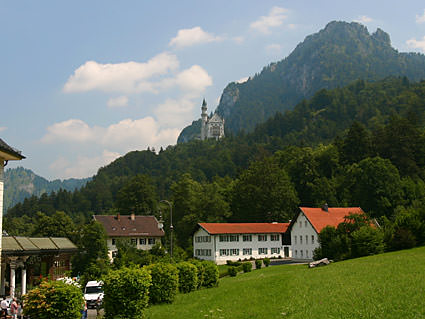 The castle was the pet project of King Ludwig II, who never got to enjoy it much, as he was certified insane and unfit to rule, then died a few days later. It's my humble opinion that somebody who could orchestrate something so wondrous was probably just misunderstood, and not insane at all. In any event, once he died, all work on his various projects (including Neuschwanstein) were stopped. The rooms that were completed are magnificent, so one can only imagine one the completed palace would have ended up looking like.
As wonderful as the castle is, I was a bit saddened by the poor horses that are forced to haul heavy carts filled with tourists up and down the steep walkway all day long. We were tight on time, and calculated the horse carts were fastest to avoid missing the tour, but I regretted it after just moments of starting out. I didn't want to take the carts back down, and so we hiked the 15 minutes over to the bus stop (which had much better views anyway). If you ever visit, do yourself (and these poor beasts) a favor and take the bus.