It's the last Bullet Sunday of 2007! I am so ready for this year to be over.
Guitar Hero. After a bit of practice, I finally got 100% on Pat Benetar's Hit Me With Your Best Shot on Guitar Hero 3. Thinking this meant I was ready to move up from "easy" level, I hopped up to "medium" difficulty and sucked horribly. I think I'm done with this game now, and get a bit depressed when I see videos on YouTube of kids hitting 100% with "expert" level on impossibly difficult songs. I shudder to think how much practice it takes to rock this hard.
Presidential. Is it bad that I haven't decided on a presidential candidate yet? It seems everybody has made their choice except me. I really like Barack Obama after reading his book The Audacity of Hope, but am not 100% with him yet. On issues alone, I'm leaning toward McCain, but can never forgive him for abandoning our POWs (ironic since he was one), and would never vote for him. Rudy Giuliani got endorsed by televangelist whack-job hater Pat Robertson, which means I won't even consider him as a candidate. About the only thing I'm sure of is that I don't want to see Mike Huckabee in office... he seems to have little interest in representing ALL Americans as president. As if his blatant homophobia and tendency to speak out of ignorance about AIDS and other important issues wasn't bad enough, he just seems like a total jerk. I can't imagine how much worse our international relations would become with Huckabee in power, which is saying a lot after the complete and total devastation suffered under President Bush. Sigh. I loathe our two-party system, and feel we will never get the best person for the job in office so long as candidates have to cater to their political affiliations to get elected.
Juno. Hands-down best movie of the year is Juno. What an amazing film, and what an astounding triumph for director Jason Reitman, who's previous film Thank You For Smoking was also genius. He seems to be taking a very different path than his father (Ivan Reitman, who hasn't had a decent film since Dave in 1993), and I can't wait to see what he does next.
Watching. In other movie news... Zack Snyder, please please please don't screw this up...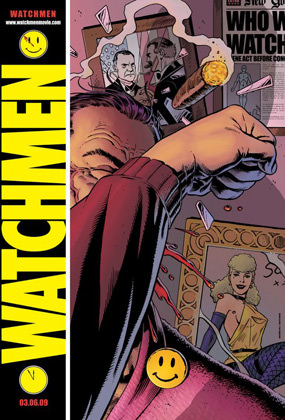 Eh... not a lot of bullets today, but there's not a lot going on right now. How totally cool is that?