It's Bullet Sunday from the City by The Bay. Originally, I wanted to fly back home today, but there were no flights available, so I had to wait until tomorrow. Oh well. It's hard to complain about getting to spend a free day in San Francisco.
• Lost Luggage. My missing suitcase was found and everything worked out okay after all. This makes me happy, because the last time I flew into San Francisco and my luggage was lost, I never saw it again.
• Kentucky Girl. Once I had clean clothes at last, I took BART into the city so I could have lunch with Kentucky Girl today. It went something like this...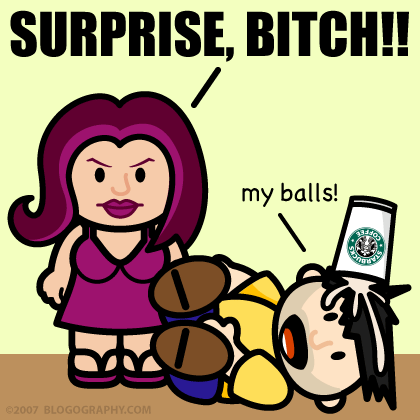 Well, not really... but we did have sandwiches made by San Francisco's slowest deli where she tried to kill me with a potato chip. And then I took KG to Chinatown so I could introduce her to the crack cocaine substitute known as Golden Gate Fortune Cookies. After that, we shopped for crappy gifts and wandered around laughing our asses off until we ended up back at the BART station where we went our separate ways. Until we meet again my partner in cookie crime.
• Vending Hell. I was going to grab a couple of slices of pizza for dinner, but didn't end up in a pizza kind of mood. I then decided to enjoy a hotel vending machine dinner and have a big breakfast instead. Armed with a stack of dollar bills, I headed to the vending vestibule and found... nothing good at all. Not even a Snickers. It was all weird brands of chips and cookies and crap. After trying a few bags of "snacks" and finding them repugnant, I suddenly find myself in a "pizza kind of mood" after all. But it's too late now, so I guess I'm having fortune cookies and a Coke for dinner. Good thing I bought four bags of them.
• Death Scene. Bad Robert called to ask me if I had bought the Blu-Ray 5-disc set of Bladerunner (I had) and whether or not I had checked the fifth disc because there were manufacturing errors (I hadn't). After he told me that he was watching yet another version of the movie, he mentioned that Rutger Hauer's death scene was one of the best ever filmed. I agreed, at which point I had to mention that the most shocking and disturbing death scene I've ever seen in film was in Galaxy Quest when Quellek (Patrick Breen) dies while Alexander Dane (Alan Rickman) tries to comfort him after he's been shot. I was not expecting such a sad and touching moment in a comedy film, and it's haunted me ever since. Yet another reason I think Galaxy Quest is one of the most perfect (and underrated) movies of all time...

"By Grabthar's hammer, you shall be avenged!" Photo taken from The Questorian Site.
• Beauty Beholder. And so I'm sitting here enjoying my fortune cookies and Coke when suddenly a commercial for Dell's XPS "all-in-one" iMac killer shows up on my television. They keep talking about how beautiful it is and I nearly choke to death laughing my ass off at the absurdity of it all. I mean... I know that beauty is in the eye of the beholder and aesthetics are all subjective and stuff... but this janky piece of plastic is supposed to be beautiful?? It's got all these freaky angles with ugly chunks hanging off of it, and looks like ass...

IT'S STUNNING BECAUSE WE SAY SO, DAMMIT!!
When you look at the stunning curves and elegant simplicity of the iMac, the Dell just looks like a cheap piece of 1980's junk in comparison...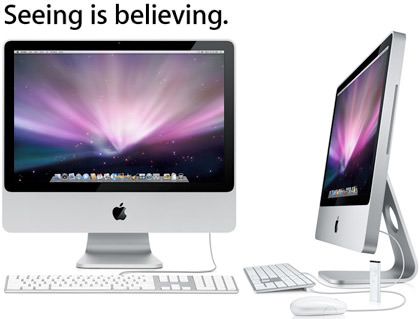 I know I'm a Total Mac-Whore and everything, but this is just hilarious. Why is it that nobody can design a good-looking computer except Apple? Surely Dell can afford to hire designers who are capable of making an attractive computer for PC users? Or do they think they can just say something is "beautiful" and it makes it true? I'm stunned alright.
And now I need to pack my suitcase so I can fly home in the morning for one night only. The jet-set lifestyle I lead is so glamorous.