I don't know how many bullets I have in my this Sunday. I'm still traumatized from the drive back home.
In the past two decades of driving in the ice and snow, this was probably the worst it has ever been. And I most certainly knew better... iPhone told me the road was going to be shit, I just chose not to listen. I think that after my life is over, I shall make a list of the stupidest crap I've ever done, and this day will be in the top ten.
• Beginnings. Things started out good enough. Just a bit of light snow that wasn't even sticking to the road...
• Slush. But then things went terribly wrong once I made it through Monroe. The snow turned to rain which made the snow already fallen turn to slush. Scum-sucking slush from hell that pulls your car from the road and makes you lose control. Several cars were pulled into the ditch, and many of the people one the road with me turned around and went back. People far smarter than I.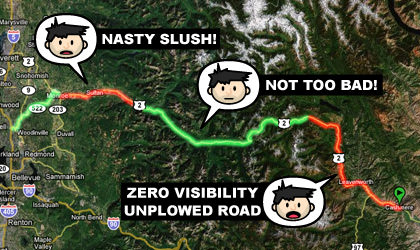 • Calm. Then, as if by magic, the rain stopped. Heading up the pass, there was only light snow and cleared roads. I breathed a sigh of relief that my drive home wasn't going to be as difficult as I had first thought...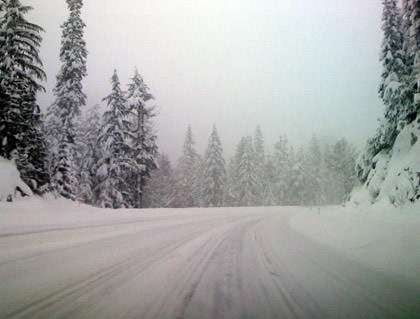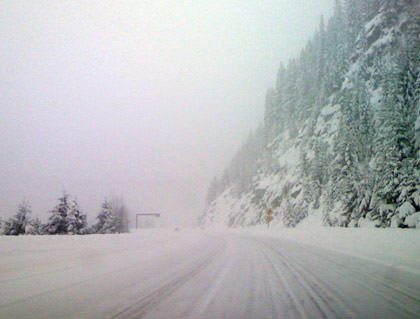 • Storm. It was too good to last, of course. Once I topped the pass, the roads turned to shit, the snow was much heavier and wetter, and freezing winds blasted the highway. And this wasn't even the worst part. The wind made the wet snow freeze to my windshield wipers. I had to constantly reach out my window, grab the wiper, then slap it down against the glass to break the ice off... otherwise, they couldn't clean the window. I tried to stop several times because I couldn't see, but there was no place to do so. I had to just use The Force and keep going... taking advantage of little clear spots that would pop up from time to time. It was horrible. I expected that the roads would be plowed better once I made it to Leavenworth, but I was wrong. My car was all over the road as I struggled to get home on roads completely covered with snow.
• Wrecked. Once I finally got home safe and sound, I was so mentally and physically exhausted that I could barely function. I was totally wrecked, and just wanted to climb into bed and forget that the day had ever happened. Of course, this was simply hoping for too much. I had a massive pile of emails and work to get to. Life is harsh that way.
And that's a wrap! Fortunately, weather conditions are predicted to improve later in the week before I have to fly out again. Not that I put much stock in weather predictions, but it never hurts to be hopeful.