Hmmm... the TSA felt it necessary to inspect my suitcase.
Somebody now knows that I wear Mickey Mouse boxer shorts.
I'm in Spokane today, but not because I actually need to be in Spokane. When I changed my travel plans last week, planes were so overbooked that in order to get to San Francisco, I had to fly out of Spokane per my original itinerary. As if that weren't bad enough, I couldn't get a revised flight to Spokane on the 26th, so I'm flying back here on Christmas Day.
But that's not the strange part.
I somehow had it in my head that I was in Chicago just now.
Possibly because the TV was tuned to Chicago news, but more likely because I've been traveling so much over the past six months that I can't keep it straight in my head where the heck I am at any given moment...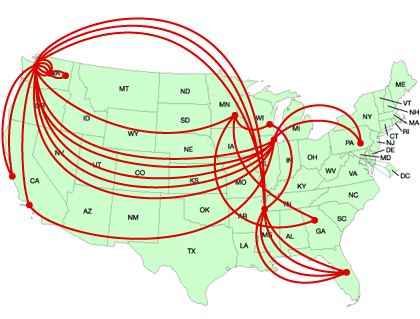 Almost hard to believe that I failed once again to qualify for platinum level on my frequent flier plan.
But, then again, I did get to see some sweet scenery on the way over...
Oooh! You can see my home from here!
I don't mind the flying so much... but all this up-and-down is wrecking havoc on my sinuses.
I suppose that's my cue to get some sleep.
Here's hoping, anyway.