I am not a candle person.
Which would put me firmly into the minority of the candle-loving masses who buy candles by the hundreds. Except I was given a nice candle recently (smells like pear!), so I thought I might as well spark it up so I have something good to smell while I work. Problem is, I couldn't find any way to light it.
My old lighter was empty. There's not a match to be found anywhere. I couldn't even get the flint in my car emergency kit to work. How sad is it that a grown man can't make fire? Just when I was about to pack it in and go live in a cave, I thought to go looking through my massive souvenir collection to see if I might have saved a matchbook from somewhere. Fortunately, I did have one that I snagged from a restaurant in Korea, so my quest for fire was at an end...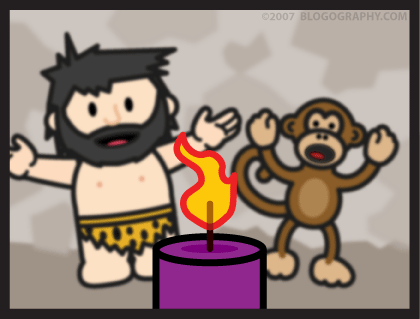 And there was fire, and the fire smelled good.
But something else sure stinks...
What is with all these stupid-ass commercials for the film Love in the Time of Cholera? If I were to write down all the movies that I would most NOT like to see, I'm pretty sure it would top my list right now. Don't get me wrong, if you like to watch weepy period romance dramas, more power to you, but I'd rather be kicked in the balls by Morten Andersen that sit through this crap. And the commercials are only making things worse.
I mean, Love in the Time of Cholera? Seriously?
Mmmmmm... I smell pears!