Las week I had to skip Bullet Sunday so I could attend Avitable's Halloween Bash, but I'm back and fully-loaded this week.
• Sewn! For those who asked, YES I made my own Halloween costume for Avitable's party, and I have pictures to prove it! When I was 13, my grandmother taught me how to use her sewing machine, and so I borrowed it from her to make my "Holo-Virus Rimmer" garb. Despite not having touched a sewing machine in over 20 years, I was able to pick it up again fairly quickly. I started with a McCall's pattern for a Wizard of Oz Dorothy dress, then modified it so it would fit by using an old shirt I had laying around as a sizing guide...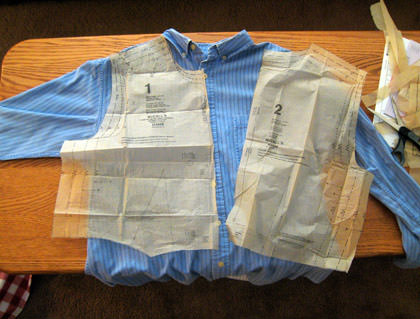 The main part of the dress was pretty easy to make, since it was just a big tube sewn to a kind of "vest"...
The tough part was making the sleeves, because they had to be big and puffy. The pattern's instructions were all crappy and vague about how to do this, so I used hundreds of straight pins to tack it all together. After that, I just ran the sewing machine around them and hoped for the best. This worked surprisingly well...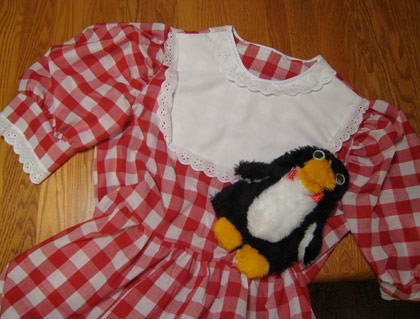 But the hardest part of the costume by far was the bonnet. Again, I used hundreds of pins to create the gathers and hold the elastic in place so I could just sew over the whole thing. To create the pigtails, I butchered a "Rapunzel" wig and braided it over some wire when I got to my hotel room in Orlando (can you imagine trying to get that through airport security?)...
All that was left was to put on some combat boots I bought when I was in Seattle and wear Mr. Flibble on my hand (if you want a Mr. Flibble of your own, you can get them on sale at WHO North America)...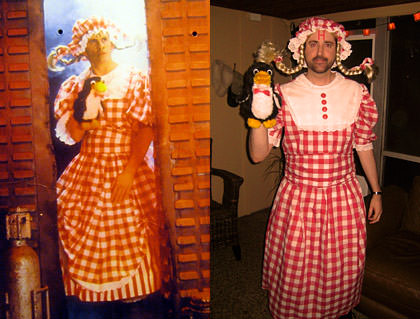 • Wonder! Question of the day... If the WonderWorks attraction ever goes out of business in Orlando, what do they do with the building?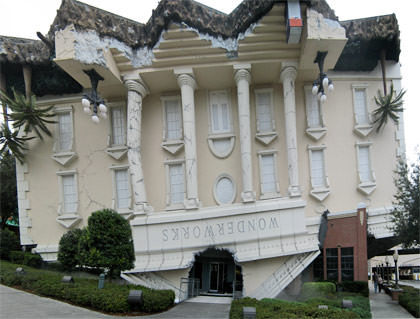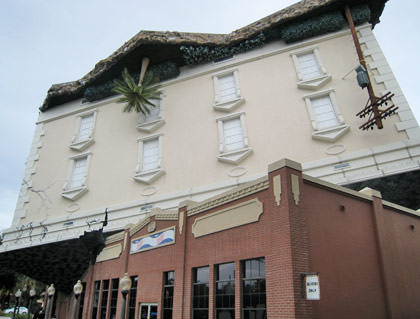 As I was walking past WonderWorks on my way to lunch at Johnny Rockets last Saturday, it occurred to me that it's not like they could take a giant up-side-down building and turn it into an Applebees or something. Might make a good giant upside-down McDonalds though. I've driven past WonderWorks many times, but have never gone inside... preferring to spend my time at DisneyWorld and Universal Studios instead.
• Strike! Uhhhh.... yeah, I totally support the writers on this one. If Hollywood big media is making money off of material being distributed on the internet, then writers of that material deserve to get a cut. The argument that no money is being made with digital distribution is absurd but, even if it were true, a percentage of nothing is nothing, so what's the problem? I remain hopeful that an agreement will be reached quickly on this (and other issues), because I needs me my TV. If the strike drags on and we end up with nothing but crappy reality shows, I'll go homicidal.
• Birthday! Hey! Today is Hilly's birthday! Drop by her blog and wish her a good one!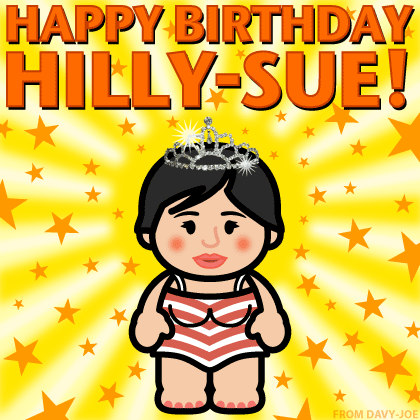 • Cut! My sliced finger is feeling much better, so thanks to everybody who was asking about it. I cleaned the wounds pretty good with hydrogen peroxide, so no infection! Anybody who has to put together metal shelving should know that the turned-over edges are still totally sharp and should be avoided.
My final bullet point is stuck in an extended entry because it's a rebuttal to a comment I got on my Macintosh Leopard ramblings from yesterday. And now that this entry is done, I'm off to work... yay!
• Ellegance! I received a long... very long... email from somebody who took grave offense by my saying that The Finder in Leopard isn't an elegant tool. Rather than get into a long debate over the issue (I'm a Apple-loving Mac whore after all), I just thought that I would give an example of what I am talking about.
Let's say I've downloaded a bunch of Elizabeth Hurley photos off the internet and want to crop them then save them in a named series of "Elizabeth Hurley 001.jpg" then "Elizabeth Hurley 002.jpg" and so on. Previously, in Tiger, I would just click on a previous filename, press the down-arrow to go to the end of name, backspace over the old number, type the new number, and save. But this is broken in Leopard...
Clicking on a previous filename populates the "Save As" field as expected...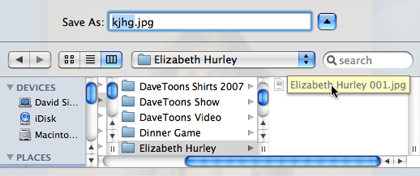 But instead of highlighting the entirety of the new name, it only highlights the same number of characters that were in the previous filename (meaning that you can't change you mind and immediately overwrite with a new name if you want)...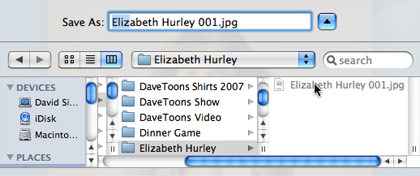 And when you press the down arrow, you go to the end of the extension, NOT the name. This means you have to left-arrow back four spaces so you can backspace over the number like you wanted in the first place...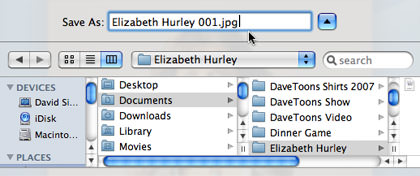 And that's what I mean when I say that The Finder is not an elegant tool. In this example, it's actually a step backwards from Tiger. One of the little things that makes a Mac such a joy to use has been broken in Leopard, because somebody isn't watching out for the details. So, while MacOS X Leopard may be one of the best operating systems ever released (and is still very much worth the money), all is not perfect. I can only hope that these bugs will be fixed in future Leopard updates. Along with .Mac syncing, which sucks more every day. Bleh.