This morning I wake up to my Variety newsfeed and see something so shocking that I very nearly pee myself while squealing like a little girl and crying at the same time... ABC to give 'Cupid' another shot.
My first thought is that ABC is bringing back the best show ever to air on television.
My second thought is that this is wishful thinking, and they have bought the rights to CBS's crappy dating reality show of the same name.
But then I click through to the story, and there it is...
"Rob Thomas to resurrect Jeremy Piven series."
At this point I'm in complete shock. This kind of thing never happens. Television networks rarely (if ever) admit that they've made a massive f#@%ing mistake and set about correcting it. I've written about my love of Jeremy Piven's Cupid many, many times, and the thought of it coming back is almost too much to handle. What's next? They bring back Wonderfalls, Dead Like Me and Arrested Development?
And then I read the story...
Thomas said he was "shocked" by the request -- in a good way. "I'm getting a chance to do what writers never get the chance to do, which is to go back and try to improve a work," he added.

— Wow. Is Rob Thomas high? How can you improve upon perfection? This does not bode well.

Scribe said that while he'll write a completely new pilot, "I'm not going to reinvent it. What they're buying is the show."

— Thank heavens for that! Maybe he hasn't gone insane after all.

There will be changes, of course.

— FUCK!!!!

For one thing, Piven, busy on "Entourage," won't be reprising his role. Thomas also wants to come up with a main title sequence that captures the show's conceit so he doesn't have to explain it every week.

— WHAT THE FUCK?!? CUPID IS JEREMY PIVEN!!! DID ROB THOMAS NOT WATCH HIS OWN SHOW?!? How the fuck can you "not reinvent" the show yet not have Jeremy Piven in it? Cupid without Cupid? And who gives a crap if Jeremy Piven is doing Entourage? He may be the best part of that show, but he's not the lead character! Bring Piven back to Cupid and have him make guest-appearances on Entourage! The show isn't even that good anymore. This is worse news than if they never decided to bring back Cupid in the first place! Maily because IT WON'T BE CUPID WITHOUT JEREMY PIVEN! If HBO had any integrity at all, they would cancel Entourage before it gets too awful, and let Piven go back to Cupid.

New "Cupid" will also relocate from Chicago to Los Angeles, allowing for more high-profile stunt casting.

— Yes, well, if you're destroying the show by not bringing back the lead character, what difference does it make where you put it? Chicago was critical to the grounding of the show, and one of the many, many things I loved about Cupid was the constant location shoots in The Windy City, but whatever.

"The plan is to try to hook some really good guest stars every week," Thomas said.

— I think I want to die...
So ABC isn't bringing back Cupid after all. Not really. My only hope is that we will at least get the original series out on DVD so they can use it to promote the butchered remake.
The hardest thing for me is that I totally trust Rob Thomas, and the new version of the show is undoubtedly going to be brilliant (the guy did create Veronica Mars and the original Cupid after all). But will that be any consolation to me? Probably not. The original series is the best television show ever, and having a new success on what could have been a stunning comeback just makes me sad.
Which brings me to the best show currently airing on television (TONIGHT 8/7c)...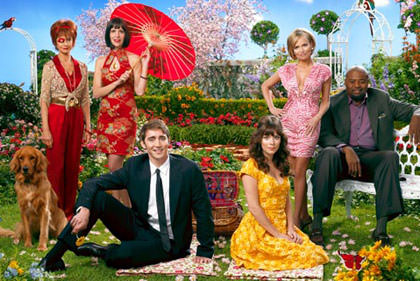 I've only seen the first episode of Pushing Daisies, but it's so brilliant that the rest of the episodes could be crap and the show would still be genius. Of course, I wouldn't expect anything less from Bryan Fuller (the guy behind the aforementioned Wonderfalls and Dead Like Me), and I am very interested in seeing where he takes this one.
But the show is on ABC... the network that fucked up Cupid, the best show ever to air on television, so I'm not holding my breath. The morons will probably preempt Pushing Daisies a half-dozen times... change the time-slot again and again... demand changes to the show... then blame viewers for not tuning in before ultimately canceling it after five episodes.
It's what they do.
I wish I didn't love television so much.