I managed to get most of my messed-up schedule repaired today. The worst part about it all is having to call and cancel out on people who were counting on me... and some things I was really looking forward to doing had to be given up. I'm trying to make the best of the situation, but sometimes it's hard to find an up-side.
Except when one of the things you're canceling is helping Bad Robert move his furniture out of storage. There's really no down-side to missing out on dragging heavy objects up two flights of stairs. Well, except Robert promised to buy me Taco Bell if I helped, and I love me the Cheesy Fiesta Potatoes (especially when somebody else is paying for them).
Of course, now that I think about it, my restrictive diet wouldn't allow me to have Cheesy Fiesta Potatoes in the first place! I'd be risking my life moving his furniture with no cheese-covered reward at the end! That hardly seems fair now, does it?
Anyway...
While I was backing up my hard drive this morning, I ran across a project that I had started a while back, but never had time to finish. The idea was to come up with some character "style sheets" for Lil' Dave and Bad Monkey, then hire a professional to create 3-D models of them for me. This is a lot harder than it sounds, because translating a 2-D cartoon into 3-D doesn't always work, and you need to find somebody who has a lot of experience doing it. On top of that, it's quite a challenge for me to visualize the characters having depth... I never put any thought of them existing that way while I was slapping them together years ago...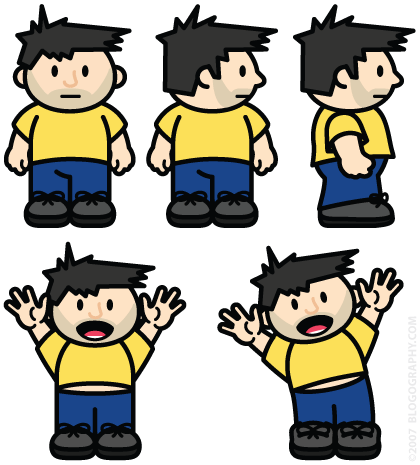 Awwwww... cute!
Ooh! Ooh! Reaper is on TV now! I hope that the lead character doesn't turn into a whiny little bitch like what happened with Chuck last night. Boy does that get old in a hurry.