Two weeks ago, I made an appointment for this morning at 9:00am to see if my satellite TV could be upgraded. I received a phone call yesterday confirming this appointment. This morning I get a call at 8:50am telling me that they don't have the equipment and have to reschedule.
WTF?!? They certainly knew they didn't have the equipment yesterday... why the hell didn't they call me then? Why wait until I've already scheduled my day to call and totally f#@%-up my plans? This kind of thing is completely unacceptable, yet is so commonplace in the repair/installer industry that I don't understand how anything ever gets done.
Dumbasses.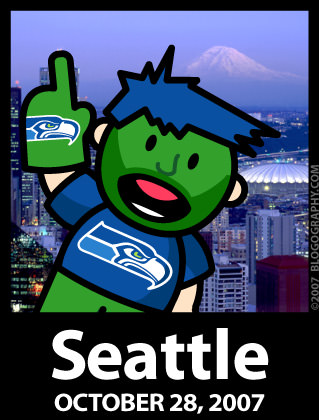 Well, not after last week's game, but we'll see...
The good news is that the weather cleared up a bit for my drive over to Seattle. And speaking of Seattle... on Sunday the 28th of October, I am flying back from the east coast and staying downtown. I know that Sunday isn't the best day for this kind of thing, but would any Seattle bloggers want to get together for an early dinner in the city? I have to work on Monday morning, so I can't stay out until midnight or anything, but it still might be fun to get together. My email address is in my sidebar, let me know if you would be able to come. I'm thinking 4:30-ish, so we have plenty of time to visit and stuff.
And lastly, before I head out the door... a meme!
Bre (of "Win or Lose, We Go Shopping" fame) has come up with a list the words or phrases she uses too often. Then Hilly posted her list too, and a meme was born. Below is a list of the 15 things I find myself saying (or typing) far too often...
"The Whole Taco" Which I use instead of "the big picture" to mean "everything." — e.g. "You can't obsess on the details, you have to look at the whole taco!" or "This is only part of my blogroll... click here for the whole taco."
"Wrecked" Takes the place of "broken" and "sucks" for me. — e.g. "I fell and wrecked my back!" or "Windows Vista is wrecked."
"Totally" Rarely used in conversation, but constantly used while writing, as a modifier to signify extremeness. — e.g. "I would so totally go to a Spice Girls concert!" and "Windows Vista is totally wrecked!"
"Sweet" Which took the place of "cool" and "awesome" for me. — e.g. "Your new iPhone is sweet!" or "My trip to Vegas was totally sweet!"
"Serious" Another modifier to signify extremeness, and is often hyphenated (much like some people are using "crazy" now-a-days). — e.g. "Elizabeth Hurley is serious-hot!" or "Chocolate pudding is serious-delicious."
"Bank" Which took the place of "money" for me. — e.g. "That Porsche must cost some serious bank!" or "I wanted to fly to Paris for the weekend, but didn't have the bank."
"Bitch" Mostly used with inanimate objects (as opposed to people) to express frustration. — e.g. "This bitch is the wrong size!" or "How do I get this bitch to turn on?"
"Bitches" Takes the place of "people" or "friends" for me. — e.g. "Those bitches are going to be late!" or "Hey bitches, thanks for the birthday presents!"
"Whore" Used to indicate that you'll say, do, or buy anything a person or company wants you to. &mdash e.g. "I just bought the new iPod even though I already own four of them... I am such an Apple Whore!" or "Jared Fogle, the Subway Sandwich Whore."
"Touched Down" Used to mean the time that something happened. — e.g. "Apple just touched down with new iPod models!" or "That new television show touched down three weeks ago."
"Hurricane" A person who causes frustration, destruction, problems, or disgust... mostly due to their being annoying. — e.g. "I wish they would fire Hurricane Caruso from CSI Miami so it would be watchable!" or "Hurricane Britney just lost custody of her kids!" or "Hurricane Trump just touched down with a new building in Chicago."
"Weather Delay" Used to describe ANY problem or when something is totally fucked-up (just like the airlines use!) and often used with "Hurricane" (see above). — e.g. "My stupid Windows Vista machine is experiencing a weather delay... AGAIN!" or "Sorry I'm late, there was a weather delay in the parking garage." or "Hurricane Bush has caused a serious weather delay in Iraq."
"Heinous" Seriously bad. So bad that there's no justification for it. — e.g. "David Caruso's 'acting' is heinous." or "The CW Network's heinous cancellation of 'Veronica Mars' haunts me to this day."
"Delusional" Somebody who routinely says something unbelievable, unrealistic, or just plain stupid. — "Pat Robertson says that Hurricane Katrina was the wrath of God on the sinners of New Orleans... he's delusional that way." or "Ann Coulter is totally serious-delusional."
"Dude" I rarely say this anymore except when I'm having a conversation with Bad Robert, in which case we both use it constantly to refer to each other. — "Dude! We should totally order out pizza and play Xbox this weekend!" and "Dude! I know! I so totally have to kick your ass in Halo3! and "Dude! Dream on!" and "Dude! I can SO kick your ass in Halo3!" and "Dude! You're delusional!"
I'm sure there are many more (I am forever using the phrase "well that sucks!," for example) but these are probably the ones that annoy other people the most.
And, on that note, I'm off...