Today I was getting aggravated with the file folders I use to sort my projects because my stuff keeps falling out of them. Then, in a flash of nostalgia, I remembered the Pee-Chee folders from my school days and decided that they were the perfect solution. So off I went to the school supply section of the local drug store, only to find out they don't have them. No problem, I'll just order them from Staples. Except Staples doesn't have them. So then I look on Wikipedia to see if I remembered the name wrong or something, only to find out that they don't make Pee-Chees anymore!
WTF?!?
How old am I?
Apparently, really old. High school was 23 years ago, and somewhere in that massive span of time they stopped making Pee-Chees!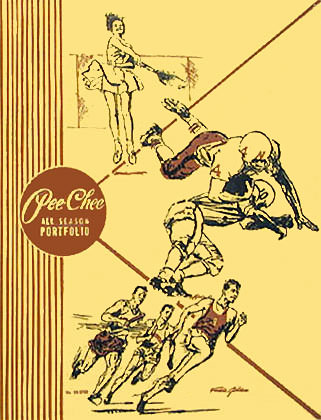 What in the heck do school kids use to carry their papers now-a-days?
More importantly, what in the heck do they use to write cool graffiti on? When I was in school, everybody plastered their Pee-Chees with nifty stickers and decorated them using multi-color markers to write the names of their favorite bands and stuff. Mine was covered in cartoons I would draw when I was bored.
Which was most of the time.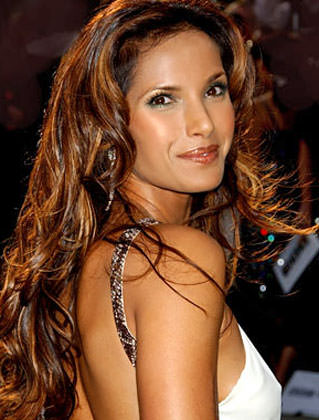 Photo swiped from the always-excellent Maxim Magazine.
As I'm typing this, Padma Lakshmi is being her usual scorching-hot self on the latest episode of Top Chef. The big challenge this time is one of the coolest I've ever seen on the show... airplane food! I really like how this season they are being so creative in the challenges and toning down the stupid-ass drama that plagued last year. Of course, then they invite Anthony Bourdain to be a guest-judge, where he's his usual cheerful and supportive self. He must be a scream at parties.
For my dinner, I was a bit of a Top-Chef myself, making my own pizza sauce for the first time. I saved up all my dairy allowance for the day so I could make pizza on toasted rice flour bread. It was surprisingly tasty. I should totally be on Top Chef next season!
UPDATE: My Pee-Chee obsession drove me to Google searches where I've found others lamenting the passing of the Pee-Chee...
Blue Flavor says that MySpace is the Modern Day Pee-Chee.
A nice Evolution of the Pee-Chee is over at CreativePro.
Defective Yeti with a tale of Pee-Chee customization gone wrong.