Except for the fact that I'm coughing my head off at random intervals for no apparent reason, and still feel tired all the time, I'm finally kinda back to normal.
Except for these bizarre food cravings I keep having. Out of nowhere I'll suddenly be dying for some random food... like saltwater taffy... or beef jerky... or a fifth of Jack Daniels. Or, more likely, a fifth of Jack Daniels with saltwater taffy and beef jerky. It doesn't make any sense. I mean, saltwater taffy sticks to your teeth, I don't eat meat, and my alcohol of choice is Jägermeister. So why?
The answer is simple.
I didn't survive my sickness. It killed me. I died.
AND NOW I AM BACK FROM THE DEAD AND CRAVING HUMAN FLESH!
Well, not really human flesh, but I sure could go for a donut. A Dunkin' Donut with pink frosting...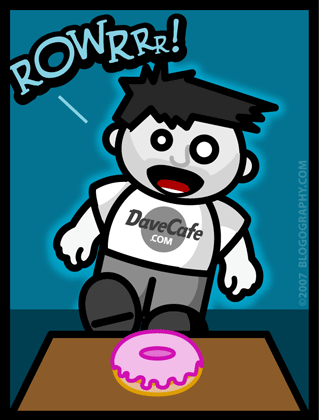 A pity that there's no Dunkin' Donuts anywhere in Washington State.
I guess I'll just have to settle for that fifth of Jack Daniels.
And now, because I was recovering yesterday and didn't feel like writing...
Yes, I know Apple had an iPod event yesterday.
Yes, I know the iPhone price was slashed by $200.
No, I'm not mad... I thought my iPhone was worth $599 when I bought it, or else I wouldn't have bought it.
On top of that, when I think of how often I use it and how essential iPhone is to my life now that I have it, $200 is a small price to pay for the time I've been using it.
The amount of money I've saved on not having to buy overpriced internet access at airports alone is already at least $100.
Not to mention the fact that my iPhone plan with AT&T saves me $20 a month over what I had been paying, and my iPhone will have paid for itself by the time my two-year contract is up.
People who whine about the pitfalls of being early adopters should either not be early adopters or shut the frak up.
I'm actually thrilled that the price drop will bring more people to the sheer joy that is iPhone. The sooner Apple dominates the universe, the better.
I still love Apple. I still love my iPhone. I still love my Macs. I still worship Steve Jobs.
And, before I forget, since I've been emailed about it a dozen times...
Yes, I know that Steve Jobs announced today that Apple will give a $100 Apple Store credit to iPhone early-adopters after he got hundreds of whiny emails.
The only question now is... what will I spend my $100 in Apple-money on?
Hey. Wait a second...
DAMN YOU STEVE JOBS AND YOUR BRILLIANT $100 APPLE STORE CREDIT PLAN TO ROB ME OF SIXTEEN-THOUSAND-SIX-HUNDRED-AND-SIXTEEN DOLLARS OF MY HARD-EARNED MONEY!!
=sob!=
If it's even possible, I think I love Steve Jobs even more than I did yesterday... that evil genius bastard.