w00t!
It's that time of the year again... time for the Chelan County Fair!
Not that I really care about the fair itself anymore. I haven't gone out to the fair in years, because riding a Ferris Wheel and looking at giant vegetables and visiting animals that are being sold for slaughter isn't my thing. However, there is one thing that I do love about the fair...
CORN!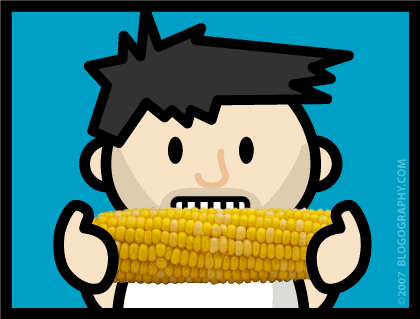 The American Legion has a booth where they sell boiled ears of sweet corn that have been drenched in butter. All for the bargain price of just $1.00! All I have to do is find somebody I know that has a fair pass, then have them run to the Legion booth and buy me one.
It's pretty tasty.
Especially when you eat it with a delicious Veggie Corn Dog.
And a bag of popcorn.
And a tub of Snack-Pack Chocolate Pudding.
And a couple shots of Jägermeister.
And some Golden Oreos.
And some toasted bread with hummus and feta cheese.
Wah! I'm hungry!