It's Bullet Sunday under medication as I try to rid myself of the last vestiges of the plague I've been fighting off all week!
• Horrendously Awful... As a certified Apple Whore, the Microsoft Zune media player was always off my radar. It isn't Mac compatible, so I just didn't care. I said my peace on the matter and moved on. Apparently, so did the rest of the world, because Zune never made much of an impact against the iPod. But then today I actually got to play with a Zune. And the entire time I kept thinking to myself over and over again... "holy crap this is lame!" I could detail the entire horrifying experience of both Zune and the Zune Marketplace, but there's nothing to be said. It's just bad, and that's the end of it.
• But Not Really... Okay just one more thing about Zune. THIS WAS WHAT MICROSOFT THOUGHT WOULD BE AN iPOD KILLER?!? It's so craptastically bad that I can only guess it was crapped out of somebody's ass in an explosive case of diarrhea. It certainly looks as if that's the case...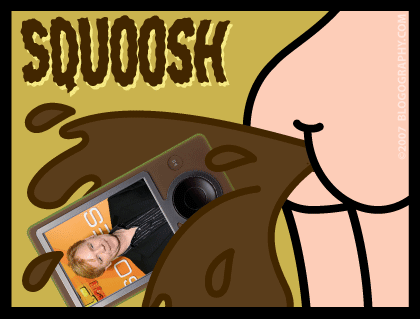 Microsoft has BILLIONS of dollars! But what good is it if they only spend $2.50 on research and development when they decide to enter a new market? NOTE TO MICROSOFT: SPEND THE FUCKING MONEY TO MAKE OBSCENELY AMAZING PRODUCTS!! Put in a billion-dollars and come up with a media player that has anti-gravity controls, a 400dpi 3-D screen, wireless power recharging, and folds to the size of a pack of gum! Otherwise, why bother? Why continue to release complete and total shit that isn't a leap ahead of what's already out there? For crying out loud, who is in charge over there at Redmond? If this is your answer to iPod, I can't wait to see your iPhone competition. Seriously, I could use a good laugh.
• MTV VMA... Am I the only one who thinks that it is ironic MTV would still hold a Video Music Award show when they so rarely play music videos anymore? I tuned in to see Britney perform, but she looked completely zoned out... as if she didn't know who she was or what she was doing there. Girl has bills to pay... she'd better get it together quick, or she won't have a music career left.
• Sam & Max... One of my most favorite comic books is Sam & Max: Freelance Police. One of my favorite video games is Sam & Max Hit The Road. One of my favorite cartoons is The Adventures of Sam &amp Max. My favorite web comic is the Eisner Award nominee Sam & Max. I'm pretty sure that one of my favorite online games would be Sam & Max too if it worked with Macintosh. It certainly looks like it would be totally awesome...
Anyways, the good news here is that Shout Factory has announced that the animated Sam & Max are getting a new 3-Disc Set on DVD! It's a few months out yet, and no release-date has been given, but the news has me totally psyched. All I need is a Mac or Wii version of the new Sam & Max games, and my life will be complete.
• Dietary Suckage... What do you eat when you have to eliminate hydrogenated oil, gluten, and high fructose corn syrup... plus limit dairy products to three servings a day? Apparently its a lot of fruit juices, frozen vegetables, and rice cakes. So far it hasn't solved any problems for me, but not eating after 7:00 each night has certainly been making me sleep better. Last night, for the first time in a very long time, I managed to sleep six hours uninterrupted. I guess you do what you gotta do in order to stay healthy, but I can't imagine living in a world where I can't have a slice of freshly baked bread smothered in butter along with chocolate pudding and a can of Coke. Oh well. One week left to go.
And now it's back to work. And not eating.