There I was this morning looking at the ingredient labels of all the food in my refrigerator and cupboards when it dawned on me... WAAAAAHH! I'M GONNA DIIIIIIEEE!
Last week while I was sick and didn't have an appetite, it was easy to be eating under my new diet. Juice and applesauce three times a day was okay by me. But now that I get hungry and actually want to eat, it's a frickin' impossibility. Everything I have contains the things I'm supposed to avoid while testing out my new medication. Of course, after researching these things a little bit, they look like stuff I should be avoiding anyway...
Hydrogenated Oil... Poison. Literally poison. This shit will kill you, and should be made illegal. Fortunately, many food manufacturers are getting rid of it, but eating out at a restaurant can be like having a hydrogenated oil bomb go off in you.
High Frustose Corn Syrup... The least-healthy sweetener there is, and it's in everything. Many researchers claim that it's high fructose corn syrup that's responsible for the obesity epidemic in the US.
Gluten... I thought problems with gluten were limited to people with celiac disease, but apparently eating too much gluten (wheat, rye, and barley) can rough-up your lower intestine even if you don't have it.
Dairy... I don't have to give up dairy, but I'm supposed to limit my intake of it. Dairy isn't exactly good for you, but the stuff is made far worse because of all the hormones they inject into cows, and pesticides in cow feed.
With nothing to eat, I went to the store and found out most of the food available is also filled with this crap. But eventually, after a lot of work shopping, I managed to find stuff I could eat (rice-almond bread with hummus and feta cheese... delicious!). But there's still a massive problem...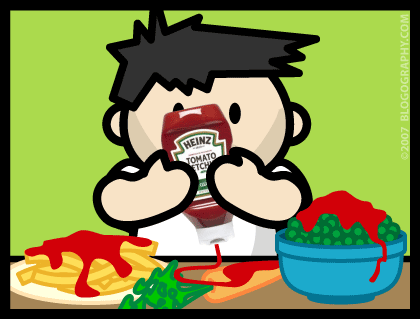 KETCHUP!
I love ketchup and put it on half the stuff I eat. Having to stop eating it because it contains high fructose corn syrup is a crushing blow to my menu. So I used iPhone to see if there was a recipe for making my own ketchup on the internet, and there are dozens of them! So now I'm making my own ketchup, and all is good again.
Especially since I just read that My Boys has been renewed for a third season! Sweet!
UPDATE: GAAAAH! Speaking of My Boys, I just watched the season finale... AND IT'S A CLIFFHANGER? Why? Why would they do this? Who was on the plane? WAAAAAAAAHHH!