It's Bullet Sunday as I attempt to blog after a 3-hour nap out of the past 35 hours. My time in L.A. was all-too-short, but I got a lot packed into four days... with Saturday being so jam-packed with big fun that I just don't know what to do with myself.
• Lunch! Proving that there is life outside the blogosphere, I met up with a friend who doesn't have a blog (gasp!) for a tour through the geekier-side of Los Angeles' treasures... including two great comic book shops (Meltdown and Golden Apple) so I have a place to go for comics now that Jay & Silent Bob's Secret Stash West is closing up shop. We also went out for a pizza lunch to a place called Mozza where I was hoping to run into Betty White stopping by for a slice (since this IS a Hollywood hot-spot). Alas Betty wasn't there, so I had to make due with Madeline Stowe sitting next to me (who got up to leave after I sat down). Mozza has probably the best pizza crust I have ever eaten... so deliciously flaky that it's almost a pastry instead of bread. They also make one of the most beautiful pizzas ever...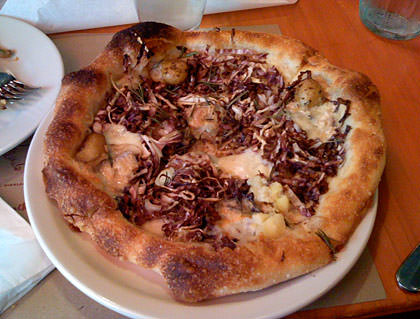 Gorgonzola dolce-fingerling potatoes-radicchio-rosemary pizza!
• Star! I had an hour to kill after lunch, so I hunted down Betty White's star on the Hollywood Walk of Fame using the map that Suzy and I had bought yesterday. I am in absolutely no way a guy to get star-struck, and couldn't care less about seeing movie stars or famous people, but Betty White is the one exception (well... maybe I'd add Elizabeth Hurley and James Earl Jones to that list, but Betty is the only star who would probably make me crap myself if I were to ever meet her)...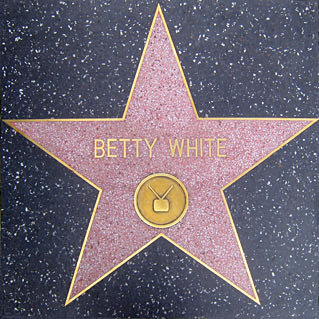 I LOVE YOU BETTY! Betty White kicks ass.
• Lucky! The fabulous Dave L.A. event was taking place at the Lucky Strike Hollywood, which is a kind of nifty-cool boutique bowling center right next to the Kodak Theater...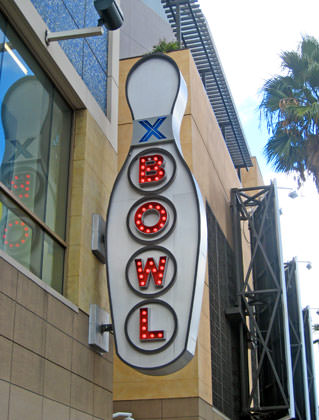 Feeling lucky, punk?
Once I got inside, I saw that SJ from Pseudotherapy had already arrived with her husband Bret, at which point I wanted to shoot myself, because I could have been visiting with them instead of wandering the streets of Hollywood killing time. SJ is one of the earliest supporters of Blogography (not to mention one of the sweetest people you will ever find), and this blog owes a great deal to her (and others like her from those early days) for being what it is today. To finally meet her in person after all these years is the type of thing that makes blogging all worthwhile...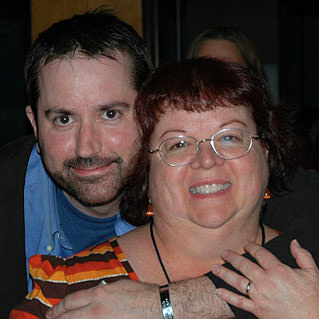 Photo by Bret. I'm totally drunk and sweaty from bowling here... sorry SJ!
• Dinner! It was great to see some familiar faces at dinner... Liz from Everyday Goddess (whom I met back in 2005), Neil & Sophia from Citizen of the Month (whom I had met at TequilaCon earlier this year), and of course mah BFF Hilly-Sue from Snackie's World was there. And here's some other fabulous bloggers I met for the very first time that dropped by...
Amanda from Amandarin's Ordinary Extraordinary. The first entry I ever read at Ordinary Extraordinary was Silence from earlier this year. How could anybody not become a diehard Amanda-fan after reading such a poignant piece?
The Bombshell from Atomic Bombshell. One of the first blogs I ever read on a regular basis, meeting The Bombshell was an almost surreal experience. Charming on every possible level (not to mention a fellow Mac-whore!), she brought along The Ninja (who owes me another pirate joke).
Catherine from The Seventh Notebook. Catherine's a relatively new blogger, but fit into this group of veterans like a real pro. She's a fellow Washingtonian, so we had more than blogging in common.
Foo from Pink Bunny Foo Foo. Hilly's real BFF flew in for the party, and ended up totally humiliating me at the bowling alley with her mad bowling skilz. She made up for it by being the total sweetheart she is and driving my drunken ass back to my hotel. Loves me the Foo-Diddy.
Peggy from Totally Unauthorized. One of my favorite blogs of all time, Totally Unauthorized is absolute must-read material. As if having one awesome blog wasn't enough, Peggy also runs Abandoned Couches, which is the only RSS feed that's on my Mac's desktop... because no matter how terrible my day is, seeing Peggy's endless parade of forsaken furniture always brings a smile to my face.
• Photograph! I was so busy drinking and talking that I was forever forgetting to take pictures. Here's what few ended up on my camera...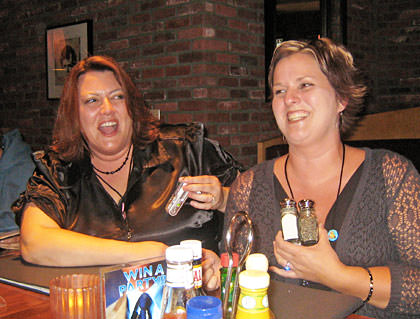 Foo reenacts my Salt & Pepper DuckyButton while Hilly looks on.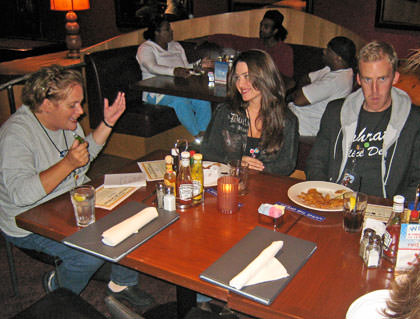 Catherine attempting to explain to The Bombshell how cool I am while The Ninja gives me his death-stare.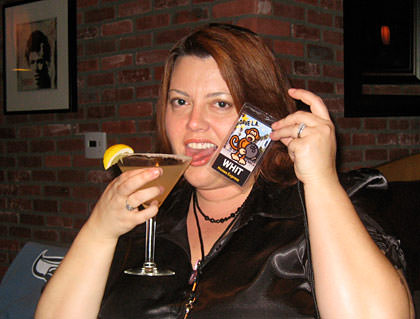 Whit couldn't make it and asked us to bowl a game for him, but instead we had a round in his honor.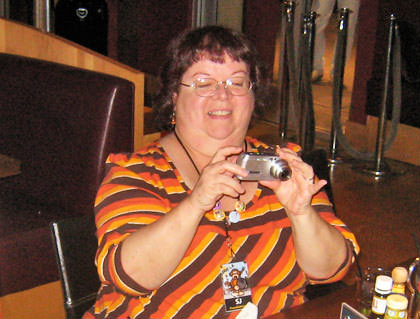 SJ has a professional camera, so she made fun of our little pocket models like this one.
• Bowl! Uhhhh... yeah. Much like an observation my friend made about the effects of alcohol on playing darts, a similar conclusion can be made about bowling. It's made much, much worse by the fact that I totally suck at bowling in the first place...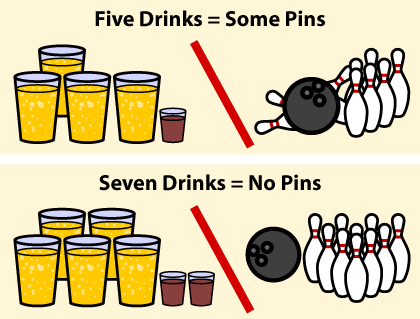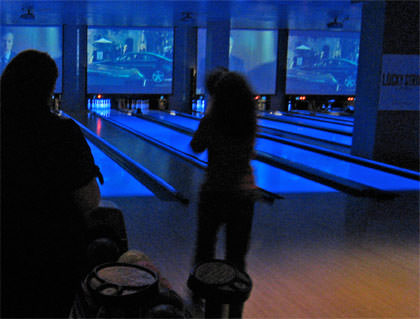 Everyday Goddess Bowling!
• Homeward! By the time I had gotten back to the hotel and packed my suitcase, there was only three hours until I had to be at the airport, so I didn't even bother even trying to sleep. Instead I attempted to get some work done and whine to myself about how tired I was. As if fate were trying to ruin me, my flight out of Seattle was delayed "due to mechanical difficulties," robbing me of even more precious sleep. But here I am, home safe and sound after a fantastic week of fun and adventure, so I have no complaints.
And that wraps up another Bullet Sunday! Thanks to everybody who took time out of their busy lives over the past week to hang out with me. Hopefully we'll meet up again one day soon!