My favorite meal of the day is breakfast. It's the only repast that I really try to eat regularly, and is easily my biggest meal of the day. I thought that this would change once I went on my restrictive diet (which I am starting again tomorrow) but it didn't. Even without toast, waffles, and cereal drenched in high-fructose corn syrup, I still love to eat each morning. The food may have changed, but my desire for breakfast is the same.
Except while traveling.
When I'm on the road, I rarely have time for breakfast, and always seem to end up in some fast food joint eating complete and total crap. Yesterday, for example, I was in a hurry and stopped at Burger King for a quick bite because it was convenient.
Note to self... STOP EATING AT BURGER KING!!
Their breakfast stuff is often stale, and is always... ALWAYS cold. This morning I had disgusting cold eggs with unmelted cheese on a stale "Croissandwich" that was practically inedible. What the hell? Isn't Burger King famous for flame-broiling shit? Why not put some of that heat on their crappy breakfast sandwiches?
I know what I'd like to flame broil...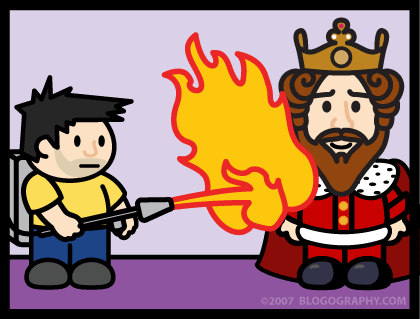 With a twist of my ring, I flame-broil the Burger King!
I choked the disgusting Croissandwich down, because I was hungry, had no time to go anywhere else, and am accustomed to eating in the mornings. Then I was sick most of the day because the crap sat in my stomach like a rock.
And did I learn my lesson?
No.
This morning I wanted a frickin' breakfast burrito because I thought Qdoba would be open and serving them. But, unlike the SeaTac airport Qdoba which serves an awesome breakfast burrito, the Spokane location doesn't open for breakfast at all. Obsessing over getting my dang burrito, I decided to go to Sonic. I tried eating there once before, but "America's Drive-In" doesn't have any options for vegetarians (apparently, people who don't eat meat are un-American?). But I did remember they had a breakfast burrito, so off I went.
I had a "Super-Sonic Breakfast Burrito" without the sausage along with a Tropical Smoothee and a side of Tater Tots.
The eggs in my burrito were kind of nasty and browned. The Smoothee wasn't blended enough, so I couldn't even drink it because massive chunks of pineapple were sticking in the straw. The tater-tots were cold... and I'm not saying they were "not hot" they were actually cold. Yet another crappy breakfast that made me miserable the rest of the day (and driving 3 hours home in that state was not fun).
I'm hoping I've learned my lesson. From now on, if I don't have time to dine at a proper restaurant and eat a decent breakfast, I should just not eat. I'd much rather be hungry than sick.
Of course, I think we all know the odds of me actually remembering that I learned this lesson...