Last night proved to be a productive evening for work, but a disastrous evening for catching up on sleep. The hotel was packed and people were slamming doors, running up and down the halls, and being overall obnoxious well past 2:00am. I remain dumbfounded as to why people act like such inconsiderate assholes at hotels... I am paying money so I can get some SLEEP!
After dragging my exhausted ass out of bed, I was heading back to work when a parking enforcement scooter went zipping by me, lights blaring. At first, I was curious as to what would constitute a parking emergency, but all that vanished once I saw the model name of the vehicle...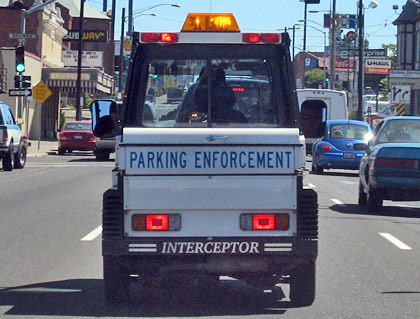 INTERCEPTOR?!? At what point has anybody ever needed to "intercept" a PARKED CAR? The first laugh of the day is always the sweetest.
Lunch, no surprise, was once again an orgasm-inducing pizza experience at David's. This time I tried a new photo composition, laying the Stewart's Orange Cream Soda on its side and flipping the pizza 180°. No matter how you shoot it, it still tastes amazing...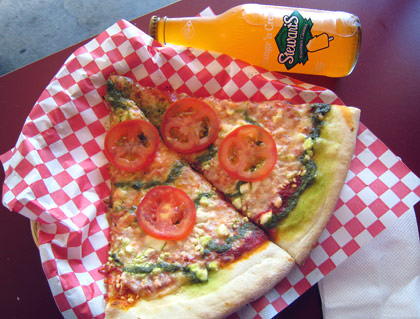 After lunch I had some free time, so I stopped by The Comic Book Shop to see what's new. Nothing could prepare me for what I found there...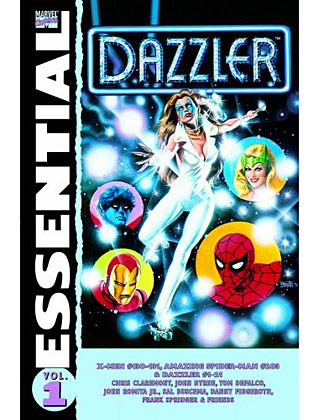 ESSENTIAL DAZZLER?!? Dazzler? Seriously? I always thought that the character started out as a joke. A sad attempt to capitalize on the fading popularity of disco music at a time when disco backlash was gaining momentum. Redemption finally came when Jim Shooter retooled Dazzler in the now infamous Marvel Graphic Novel #12... "Dazzler: The Movie." Outed as a mutant and unemployable as a singer, Dazzler finally came into her own and ultimately joined up with The X-Men in a series of fairly good stories. By the time she ended up with my favorite Marvel character, Longshot, I actually ended up liking her a bit (she was, after all, one of the few people to escape disco alive). I was afraid to even touch Essential Dazzler out of fear that I would have disco flashbacks and go insane.
After work, the three-hour drive home was uneventful, as usual.
But when I got there, my new toy was waiting for me... an ION iTTUSB 05 USB Turntable!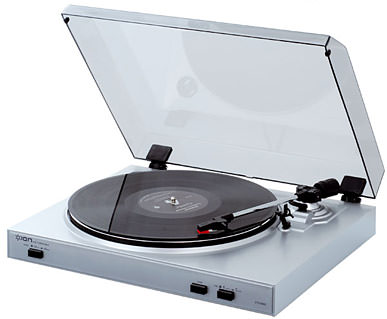 It's kind of weak in construction... just a big heap of lightweight plastic... but for $99, I'm not complaining. The important thing is that it actually works. The included Mac/Windows "Audacity" software isn't very intuitive (and only rips into WAV format), but I did manage to rip a few of my vinyl albums and 12-inch maxi-singles with decent results. I am most pleased. Now all I have to do is find the time to rip my entire collection, and I'll finally be able to have the last bit of my music in digital format. Sweet!
Well, it's now 10:15 and my DVD of Harold & Kumar Go To White Castle just ended (how frickin' hilarious was Neil Patrick Harris in that flick?), so I'm off to bed early.
Hopefully to get some sleep this time.