It's Bullet Sunday back at home, as I return from a week of fun and excitement in the Mid-West. Well, at least ONE day was fun and exciting... most of the rest was nothing but hard work and sleepless nights. Right now I'm exhausted and feeling thoroughly worn out, which is why I'll be off to bed directly after finishing up this entry.
• Davecago2... Nothing makes me happier than adding people to my "Bloggers I've Met" list that's growing ever-longer in my sidebar. So, in addition to Ariana, Diane & Evan, Gary, Jenny, Kevin, RW, Mrs. RW, this year's Chicago Meet-Up happily allowed me to add three new bloggers to the list...
Ajooja: Formerly the author of two blogs I've really enjoyed, it was great to finally meet Ajooja at long last. On top of being a nice guy who is fun to hang out with, he's a fantastic writer who expresses himself with a sense of humor and humanity that makes reading his blog an intimate experience. So intimate that, much like Delmer and Tonya, I find myself rarely being able to comment on his entries... not because I don't have the time (my usual excuse)... but because I feel that adding a comment is almost like an intrusion into something that's already complete as it's been written. I've been a fan of Ajooja since the very beginning, but anybody who's new to his blog should do themselves a favor and dig into the archives, as there's absolute gold to be found there.
Ilax Studio: Probably one of the most hardcore bloggers I know of... mainly because she codes each entry in HTML by hand... I've been reading Kimberly's blog for over a year now. Even when she was living in Italy and my jealousy was near-maniacal. What impresses me most about Kim is not the fact that she's witty, charming, and can endure the pain of walking on shredded feet like a real trooper, but the fact that she would take time to meet with fellow bloggers when she's getting married in a week. Not only that, but she brought along her future-husband, which is kind of a risky proposition when you think about it... we bloggers are a strange lot, to be sure, and can be a scary experience for the uninitiated. But Steven handled it all like a champ, so many congratulations to you both!
A Little Bird Told Me...: Robin's writings are probably one of the smartest uses of a blog I've been lucky enough to find. She's blogging a collection of letters from the 1940's that spans ten years in the lives of ten brothers and sisters (including her grandmother). It's an utterly fascinating glimpse into the lives of a family scattered across the US, and has "...compiled an interesting family history that starts in the thick of World War II and continues on through post-war years and the new found prosperity following times of war rations. Through their eyes, we get to experience the advance of airline travel, something we absolutely take for granted these days." The fact that Robin is willing to share this amazing find with her readers makes "A Little Bird Told Me..." worth a visit (and it's best to start at the beginning now, while you're only a month behind!).
Excellent blogs, all of them.
And lastly, truly... from the bottom of my heart... thanks again to everybody who took time out of their weekend to come eat pizza and visit. Saturday meant a lot to me, and it's always an amazing feeling to connect with my fellow bloggers up-close and in-person. Hopefully we can do it all over again next year!
• Bob 'Maters... RW and Mrs. RW arrived at the festivities bearing gifts... in the form of two perfect garden-fresh tomatoes. I was then charged with the rather daunting task of getting them home in one piece and squished-free. The box I had for them was too small, so I ended up protecting them the best I could with T-shirts and books. Fortunately, airport security decided that they were not a liquid or gel, and they survived the trip in perfect shape. It was Mrs. RW who suggested a BLT sandwich so, after micro-waving some veggie bacon, lunch was served...

Needless to say, my sandwich was totally delicious. Few culinary delights can compare to a garden-fresh tomato! Except chocolate pudding. Or maybe chocolate cake. Or perhaps even ice cream. But yeah, a garden-fresh tomato is hard to beat.
• Pizano's... Choosing a pizza restaurant in Chicago is a tough thing to do, because there are so many good ones to pick from. For the most part, any pizzeria worth its salt will be able to get a Chicago-style deep-dish pizza right, as it's one of the city's signature dishes (I'm partial to Giordano's for deep-dish, but have had many great pies from many terrific Chi-Town restaurants). What's more difficult is finding a pizzeria that serves a good deep-dish AND a terrific thin-crust pizza. And for thin-crust, it's tough to beat the cracker-crispy "butter crust" from Pizano's. So many thin-crusts are boring and flavorless, but all that butter does wonders here...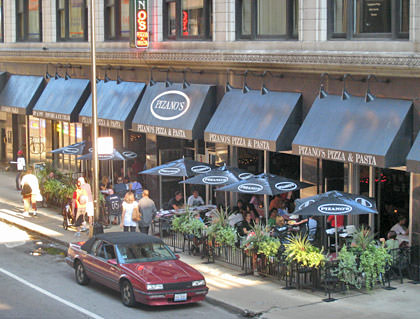 If you're looking for good pizza in Chicago, you might want to give Pizano's a try.
And it's midnight. Time for sleep...