It's B•U•L•L•E•T S•U•N•D•A•Y once again! Excuse me while I pull out my 44 Magnum...
• Spiceable... Is it just me, or is the Spice Girls one of the greatest musical groups of all time?
• Photoshopable... As I was working my way through filling orders from the Artificial Duck Co. store yesterday, I got a desperate phone call from a fellow designer. He was calling every Photoshop professional he knew, asking if they would help work on some photos he "inherited" for a project that was due on Monday. The previous designer (who was fired) had the photos taken without using a food stylist, and the results were really terrible. I felt bad for the guy, so I volunteered to work on a few images for him. I can tell you right now, you'll never have so much fun as Photoshopping sweat off of a brick of cheese on a Saturday afternoon.
• McDonaldable... Right now I would pay serious cash for a McVeggie Deluxe burger. But seeing as how it's only available at the New York Times Square McDonalds, I guess I'm out of luck. Why, why, WHY doesn't McDonalds roll this shit out nation-wide?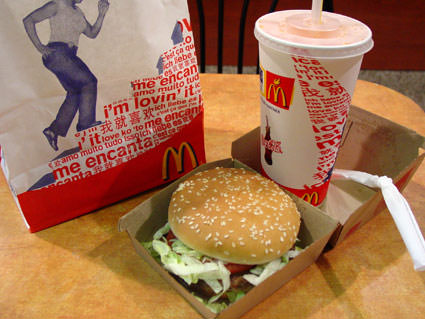 I'll trade you my iPhone for a McVeggie Deluxe!
• New Yorkable... Of course, thinking about food in New York only makes me want to have a REAL bagel. I need to work a trip to NYC in my travel plans just so I can eat for a few days.
• Potterable... In many ways, I'm grateful for the iPhone not just because it's yet another super-sweet Apple product, but because it has distracted the world from talking about the final "Harry Potter" book which is being released next week. Since I'm not impressed with Harry Potter (and love Apple), this works out pretty well for me...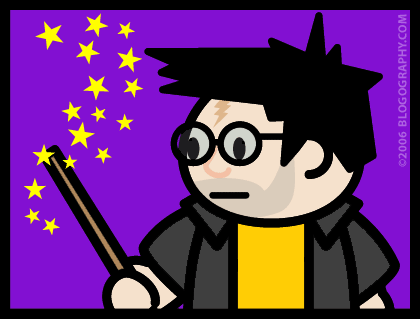 I read the first couple of Harry Potter books and found them to be pretty lame and unimaginative. It seems that any actual creativity is sacrificed for some kind of deus ex machina crap to tell the story ("and Gryffindor gets 170 points pulled out of their ass at the last minute for stupid crap so they can win the House Cup!"). Anybody who thinks Harry Potter is The Shit should seriously check out the The Books of Magic graphic novels by Neil Gaiman (which started long before Harry Potter ever saw print).
• iPhoneable... Yes. I still want a friggin' iPhone pretty bad.
I'm just over 60 orders in on the Artificial Duck Co. orders. More stuff will be coming in on Monday, and I'm hoping to have all the orders shipped by the end of the week! Thanks again to everybody for your patience... just 262 orders left to go!