Sunday, Bullet Sunday... here I come!
Unfortunately, I have to go to work today, so it's a short one...
• Guest Appearance! I'm filling in for Hilly over at Snackie's World on today's Snackie Sunday...

Of course, since everybody who is anybody already reads Hilly, I guess you already knew that. But just in case you are one of those people who read their blogroll in alphabetical order, I thought I'd let you know so you can skip from the "B's" to the "S's" and answer my super-snoopy questions right away.
• Super TV! Man, is there ever some good television happening in the off-season...
Rescue Me is as amazing and shocking in its fourth season as it ever was. Burn Notice features Bruce Campbell and Gabrielle Anwar in a supporting roles, which is reason enough to watch, but it is an incredibly well-written and acted show as well. The Closer is probably one of the best dramas to hit television in years. Top Chef is drastically more watchable than last season's really bad run. Traveler just keeps getting better and better with each episode (but is on ABC, and so it will probably be canceled). Psych is back, and hasn't lost any of the magic that made it so much fun last year. And let's not forget that Sci-Fi has a new Flash Gordon series dropping on August 10th! I am such a TV whore.
• Gay TV! And speaking of good television shows for summer, I was gifted an episode of Rick & Steve, World's Happiest Gay Couple from the iTunes Music Store and laughed my ass off. The show is not even close to politically correct, and SO wrong in many ways that I actually felt bad about laughing in parts. But it's a cute cartoon, so it's not like you can feel too bad...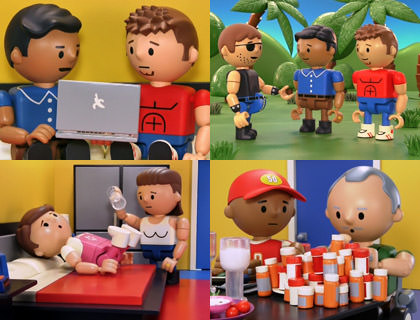 Think of it like milking a cow. Men are just smellier, stupider cows.
What's amusing here is that if the show had been created by straights, it would undoubtedly be considered homophobic, offensive, and be accused of propagating gay stereotypes. GLAAD would be calling for a boycott, and people would die. But, since the show-runners are gay and it's airing on a gay television network, it suddenly becomes okay. I'm not exactly sure how to feel about that, but you can watch a funny trailer for the show here and, for the braver of you, the first five minutes of episode 1 is here.
• Emergency! Friday I got to make a midnight run to the emergency room as a chauffeur. Again. As it was a Friday night in the middle of summer, there was a wild assortment of party-related emergencies, including underage alcohol poisoning, and a girl in the room next door that tried to O.D. (who didn't want to provide her last name, because she didn't want her parents called). After they were forced to take a urine sample so they could treat her, the conversation went something like this...
NURSE: Okay... what are you on? What did you take?
MOANING GIRL: Nothing.
NURSE: What. Drugs. Did. You. Take?
MOANING GIRL: No drugs.
NURSE: NO drugs?!?
MOANING GIRL: NO DRUGS!! I'M NOT TAKING DRUGS!!
And fifteen minutes later the nurse finds the doctor in the hall...
NURSE: Here's the test results.
DOCTOR: Well there's a big surprise...
Yes, big surprise, IT WAS DRUGS!! Who lies about doing drugs after they've had urine sample taken? Oh, I don't know... A DRUG ADDICT MAYBE? For big stupid fun entertainment, nothing beats an E.R. on the weekend.
But I'm in no hurry to go back any time soon.