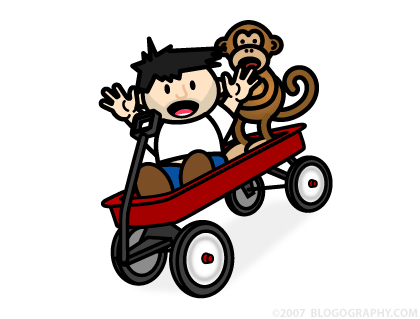 OMG! I TOTALLY FORGOT HOW TO BLOG!!
But if that doesn't frighten you away, I ramble on for quite a bit in an extended entry...
Last chance to order!
Since I am having to push back my T-shirt print-date, I am extending all T-shirt coupons until June 15th. So if you won a shirt coupon you haven't used yet, or want to take advantage of the $5 off each shirt coupon (up to four) posted at the Artificial Duck Store, you still have a chance to do so. Please remember that pre-orders are your best bet to get the shirt you want, because we don't keep a large amount of inventory on-hand between print runs. A few people have had problems placing an order... if that's you, then please email me directly and I'll try my best to help out... dave@blogography.com.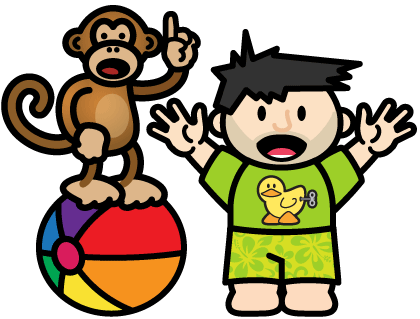 It's a post-sabbatical Q & A!
What's happening? Are you okay? Why these pre-recorded entries? While the details are personal, I can say that no less than five really terrible things happened in a short period of time, culminating Thursday afternoon with the worst news I've had in recent memory. I needed a blogging break for a while to take care of some things and process all the crap that was going on. I then had to decide whether I would just disappear for a week... or whether I would pre-record some entries to keep up with my daily blogging. Ultimately, I thought it was best to future-blog my sabbatical. Since I wanted to be honest about it, I was sure to mark the entries as "pre-recorded." In any event, I am fine. I will be fine. Things are going to be just fine, thanks!
Dude! Seven entries at once! Yeah, tell me about it. Usually I find it easy to write in my blog... I just sit in front of my computer when I have a free moment and let the magic happen. Well, not really magic, because most of the stuff I write here is crap, but my point is that coming up with stuff to write about every day is no big deal. Writing seven entries in a day is another matter entirely. Something good did come out of it, however. The DaveToon of Lil' Dave sitting in his wagon is my favorite one ever. Hence the sequels yesterday and today.
You were still approving comments though. Nope. The comments were all taken care of by a friend... the same friend who approves comments when I am traveling. I did read each and every one of them, however, because I love me my comments. The entries themselves were posted automatically at noon each day (except on the 4th, when I manually posted it that morning after I noticed Hilly had already posted my guest-entry over at Kapgar).
What's new?
Moment of Clarity Thursday... "Screw my blog. There's more to life than blogging right now!" —Dave2
Reality Hits Friday... "Holy shit! This is the first day in over three years I haven't written in my blog!" —Dave2
Wacky Weekend Hijinks... While filling my gas tank at the local mini mart, I hear the woman across from me loudly complaining about how much money it cost her to fill-up. "CAN YOU BELIEVE THIS?" she screams at me "IT'S HIGHWAY ROBBERY!" Not willing to pass up the opportunity, I said "actually, it's not that bad here... gas is $6.50 a gallon in Norway." To which she replied, "awww, everything's more expensive in California."
Total Suckage Monday... "Yeah, but on the bright side, that cheese you like is on sale." —Bad Robert
Dental Bread Tuesday... When I had my teeth cleaned a while back, I was reminded that I had a busted-ass tooth that needed to be fixed. So on Tuesday I went and had it fixed. I was shot-up with novocain, but they used a quick-dry filler to repair the tooth which meant I could eat lunch. With limited range of motion in my numb jaw, I decided I wanted some Orgasmic Tuscan Cheese Bread from Applebees because it would be easy to chew. But when I got there they told me Orgasmic Tuscan Cheese Bread was from an expired promotion and I couldn't have any. Since I didn't want anything else, I went hungry the rest of the day. Applebee fuckers.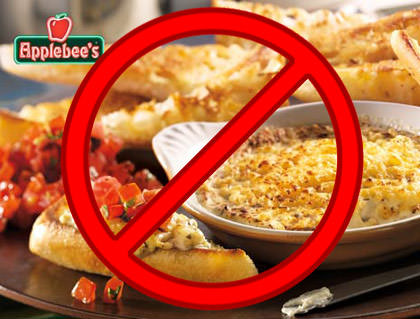 Nearly Bitch-Slapped Wednesday... "I did not mean to imply that there was anything wrong with your ass, I just need you to move it out of my way." —Dave2
No Surprise Thursday... "What do you mean I can't substitute rice for beef in my Chalupa? What am I supposed to eat with my Cheesy Fiesta Potatoes?" —Dave2
Back to Blogging Friday... Oh, that's today. I guess we're all caught up then.
Viewer Mail!
You registered "blogography.com" in March of 2002, but your archives only go back to April 2003... where is the missing year of Blogography entries? Ah yes! My secret past comes back to haunt me! As I have mentioned a few times before, I had two blogs before Blogography came to be. But that's not a totally accurate statement. There was a kind of quasi-blog before this one, also called "Blogography," which I created at the time I registered the blogography.com domain on March 27th, 2002. What I did back then was slowly start copying all my old entries from "Dave's World" and "DaveBlog" over to my new site... only occasionally adding new material. The problem was that all of those earlier entries were kind of personal, and were meant only for my friends to see. Once I noticed that bunches of total strangers were reading, I decided to erase my blog and start all over again. So, while Blogography technically started in 2002, I choose not to count that first year when I count blogiversaries because it was deleted. You aren't missing anything though, trust me.
Are you going to BlogHer? Regretfully, I will not be attending BlogHer this year. I was intending on going to ComiCon in San Diego to hang out with a friend I haven't seen in years... but we couldn't find hotel rooms, so I decided to go see Erasure when they play in Milwaukee. Unfortunately, that conflicts with BlogHer, so perhaps I'll get to BlogHer next year... or perhaps I'll organize my own event for the ladies? "DaveHer" sounds like a good idea to me.
When is DaveCago, Dave L.A., and Davelando? I don't have dates yet, but my tentative travel plans call for me to be in Chicago in August, L.A. in September/October, and Orlando in early December. Once I have dates, I'll let everybody know so I can find out if anybody wants to get together for a meet-up.
Wow. That's a lot of crap to read. I feel like I should apologize or something?