This is a pre-recorded episode of Blogography from Thursday, May 31.
I've just written five entries (plus a guest-blogger entry!) to post while I am distracted from blogging for a bit, which means I've got two to go until I (hopefully) return to "live" daily blogging again next this Thursday. The problem is that I have nothing left to write about. Well, I probably do, but I've been future-blogging for almost two hours now and feel empty. Things become even more complicated when you consider how the world of next Tuesday might have changed since I wrote this entry (and how disappointing would it be if the planet explodes before this is even posted?).
So I decided to make a list of nine cool things that could happen in the next five days before this entry posts. Why nine? Because it fits so nicely in a three-by-three grid...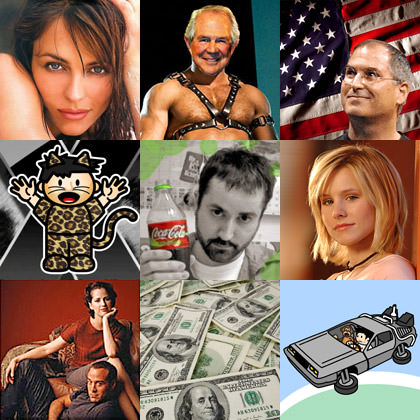 DirecTV adds the Elizabeth Hurley Channel which runs her films, shows, and appearances 24/7.
Pat Robertson's hateful, idiotic ass is caught in a gay porn sex scandal and he is never seen again.
Steve Jobs announces that he is running for President of the United States of America.
Apple ships MacOS X Leopard four months early.
Somebody at Coca Cola Company realizes they were stupid, and brings back Coke with Lime.
Somebody at the WB Network realizes they were stupid, and un-cancels Veronica Mars.
Sony Pictures Home Entertainment announces that Jeremy Piven's Cupid is being released on DVD.
A wealthy Blogography fan puts me in their will, then dies leaving me ONE BILLION DOLLARS!
Flying cars! We finally get our f#@%ing flying cars!!
Wow... can I just interject here to say that Kristen Bell and I would make a cute couple? She should totally date me!
Anyway, now that I am done playing Nostradaveus, I suppose I should get to work on my (hopefully) final prerecorded entry. Heaven only knows what I will come up with to write... maybe I should just draw a DaveToon and be done with it? Though I just finished drawing four of them for Kapgar, so I don't know if I really feel like doing another one tonight.
If only I could find those naked pictures, my problem would be solved...