As I mentioned a while back, I tune-in to The View from time to time. Much like a car wreck (or Jay Leno) it's one of those things that you just can't help watching even though the entertainment value is questionable. What keeps me coming back is the outlandish political commentary that permeates the show's "Hot Topics" every day. Representing The Left, you have Rosie O'Donnell and Joy Behar. Representing The Right, you have Elizabeth Hasselbeck. And representing People Who Can't Form a Coherent Sentence, you have Barbara Walters.
Not surprisingly The View leans quite a bit to The Left because The Right is so woefully under-represented. This is kind of a bummer for a show that is supposed to feature different viewpoints, but Elizabeth's never-ending regurgitation of Conservative propaganda has me looking for George Bush's hand shoved up her ass, because I'm convinced she's got to be some kind of puppet. Rosie may be crazy and Joy may reduce everything to a punch-line, but at least they can form an original thought.
I don't know what the heck Barbara is for. Fortunately, she's gone half the time.
Anyway, there was a nasty fight between Rosie and Elizabeth today that was pretty messed up. It's not that I give a crap about any of the pre-programmed rhetoric Elizabeth says, but Rosie is just plain dangerous. Much like dumb-fuck Bill O'Reilly on the opposite side of the political nut-job spectrum, her unyielding black and white view of the world is part of the horrible wedge that is dividing and destroying this country...

I put Jesus in the middle because he's supposed to love everybody.
Without any measure of compromise or an attempt to understand one another, people like this are doing far more harm than good, and nothing is ever going to get better for us. There's nothing wrong with having strong opinions or being Left or Right, but to go to such an extreme that there is no room for anything else in your thinking is sad. For a public figure to incite others to do the same is reckless and irresponsible. I respect people with strong convictions who are brave enough to speak their beliefs, but a closed mind should have a closed mouth.
Naturally this goes double for the politicians who are betraying their duty to serve all the people they have pledged to represent.
Which is why, when it comes to politics, I shun the dumbfuckery and choose to listen to a speaker of order amongst the chaos. A beacon of hope in a world of darkness. A voice of reason in a time of insanity.
I am talking, of course, about SpongeBob Squarepants...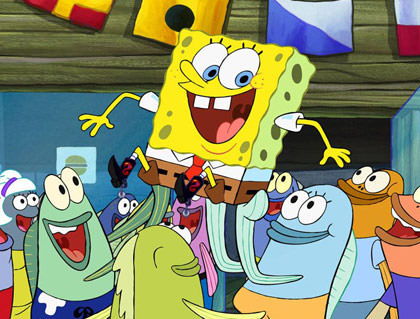 Words to live by: Good people don't rip other people's arms off. — SpongeBob Squarepants.