As I was driving home from work last night, I spotted a war protest rally going on in front of our local bank. This was a bit surprising given that I live in the conservative backwaters of Eastern Washington. Nobody ever protests anything here. But there they were.
All three of them.
But I don't think it was their diminutive numbers that was sabotaging their cause... it was the tragically bad signs they were waving around. They were barely readable. I nearly ran into the hippies trying to read what the heck they were protesting. As a designer snob, I felt the need to stop, hop out, and critique their shit, but I was just too tired.
Helpful hint to hippie protesters... USE A THICK MARKER WHEN CREATING YOUR SIGNS SO PEOPLE CAN READ THEM!
Things didn't get much better this morning. There I was stopped at a two-way-stop waiting for my turn to go. The truck whose turn it was to enter the intersection couldn't get out right away, but there was an opening coming AND a police car was heading towards me, so I decided to wait a second.
It was then that the bitch behind me decided to honk her horn.
Never mind that I didn't have the right-of-way. Never mind that a cop was coming. Never mind that I hadn't even been stopped 20 seconds yet. This impatient, ignorant, dumbass bitch decides to honk at me.
Needless to say, I was enraged.
I rolled down my window, flipped her off, and screamed some horrible things. And didn't feel the least bit bad about it. If I wasn't running late, I would have been sorely tempted to walk back and have a chat with her. Then slap her stupid face. Heaven only knows she needed it.
Argh.
Fast-forward eight hours and I'm in Seattle looking for socks. I have to walk through the women's section and notice something new...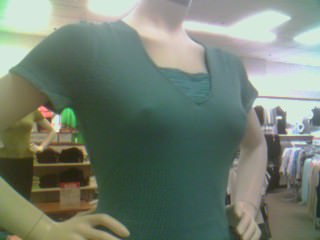 Mobile phones take crappy photos.
When did they start putting protruding nipples on the mannequins?
And, more importantly, do these nipples actually encourage women to buy more clothes?
I usually hate shopping, but if I was with a woman who felt the need to constantly ask me "do my nipples look good in this shirt?" - I may just change my mind.