I'm not one to think about death very often. I don't fear it, I don't dread it, I don't get upset over it. I've done quite a lot during my lifetime, and if I were to die tomorrow I would be okay with that. I'm not saying I want to die but, if it happens, that's fine by me... no regrets and all that. Usually the only time I'm bothered by death is when somebody I know dies. My own death is no bother at all.
But ever since I opened the Artificial Duck Co. store, I'm starting to think about it. I've charged people money for pre-ordered merchandise which is 4-6 weeks away. What happens if I drop dead before I can ship it to them? What if I'm on a plane that goes down? What if I get run over on the street by somebody talking on their mobile phone instead of watching the road?
For the first time in a very long time, I've been thinking about dying. Who will take care of Herbert (my plant) when I'm gone?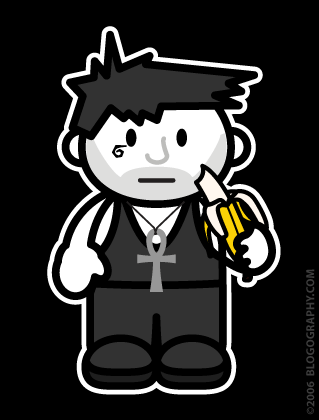 With apologies to Neil Gaiman...
And so now I've started to plan for my demise.
I've asked somebody to take care of Herbert. I've left detailed instructions on how to refund the money to everybody who has placed an order at my store. I've made sure my insurance policy is current. I've backed up my hard drive.
(Not that backing up my hard drive is important when I'm dead... but if it were to die while I was alive, I'd probably be more upset than if I myself were to die).
Bleh. It's raining this morning. The sound of it on my roof was enough to wake me up at 4:00am. It's not the worst way to wake up... except I didn't get to bed until 1:30am. Something tells me 2-1/2 hours of sleep isn't going to cut it.
Maybe I'll die from exhaustion.
But that's okay... I'm covered for that.