When coming into port on a cruise ship, you can either buy one of the ship's pre-planned shore excursion packages... or fend for yourself. Even though I loathe tour groups, I take the pre-planned excursions every time just for the convenience of it all. My greatest fear is missing the boat, so letting them worry about all that is a load off my mind.
Today's pre-planned excursion was for Olympia, Greece... birthplace of the Olympic Games.
When I booked the tour, I had anticipated that there would be some kind of massive ancient stadium that was built for the glory that is The Olympics... kind of like the Colosseum in Rome or something. So imagine my surprise when I find out that the original games were held here...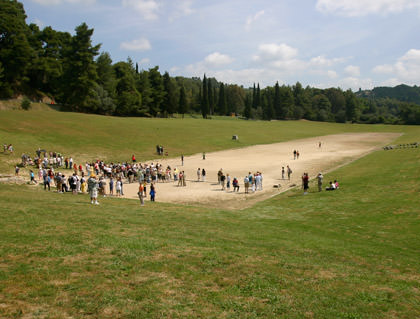 Uhhhhh... yeah. I suppose this could be looked at as a bit of a disappointment, but it is what it is. I just choose to appreciate it from a historical perspective, and it's all good.
One of the interesting facts about Olympia is that this is where the Olympic flame is lit that then travels to the site of the Olympic Games. For the Olympics in China in 2008, they will get a giant concave mirror, aim it at the sun, then put some dry brush and twigs in front until it catches fire. The flame will then be sent to Athens for a bit, then be forwarded to China. And it all begins right here at Olympia's Temple of Hera...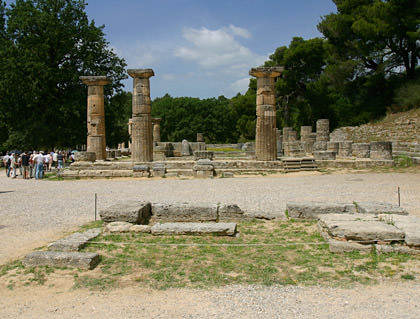 This being a historical Greek site there are, of course, some cool ruins of columns to be seen...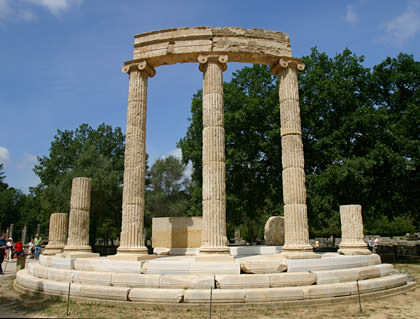 And that's the excursion for today. Thirty-five minutes later, I'm back at the ship.
Where it's time for ice cream.
ICE CREEEEEEEEEEEEEAM!!!
While onboard, this is my bestest friend in the whole world...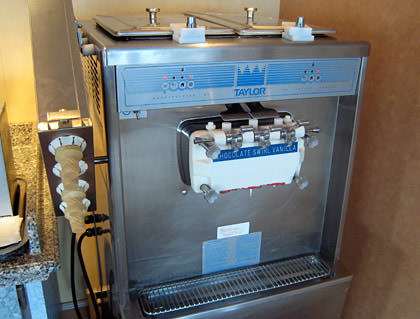 At first I kind of sucked at making my own ice cream cones but, since I've been eating 4-5 of them every day, I'm getting pretty good at it. I've got a nice swirl going on, and can make a nice peak on top now (instead of the lumpy mess I was making when I first started). I'm one of those people who should not be given access to free ice cream, because I will use it.
In fact, now that my second dinner has started to digest, it must be time for yet another ice cream cone.
I think I am gaining 10 pounds a day here...