Well this is fun.
What was supposed to be such an easy task has turned into a complete nightmare. Despite having all my products chosen and graphics made, getting merchandise processed at the Artificial Duck Store has been far from easy. I've re-keyed all 136 items FOUR TIMES in an attempt to get everything working. The good news is that I've finally figured out what was going wrong, and know how to fix it. The bad news is that I have to re-enter everything a FIFTH time.
Oh well, the shirts and DuckyButtons are up and running now, and I'll get to the prints and photos in the morning.
For all of you who voted for shirts, I'll be sending out your coupons (with a nice bonus for making you wait!) later this evening. If you've already placed an order DON'T PANIC! Just let me know and I'll adjust the amount before you're charged.
And oh yeah... we have four T-shirt winners this year!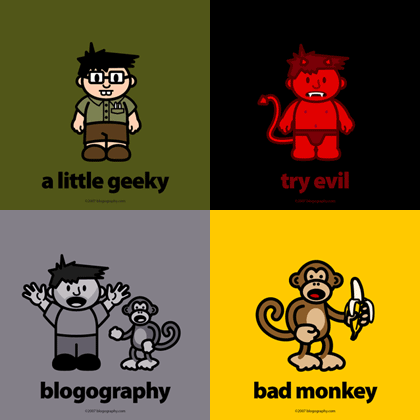 As far as votes go, "A Little Geeky" was far and away the winner. "Try Evil" was a firm second place. "Blogography" was ahead of "Try Evil" for a while, and then tied within 2 votes with "Bad Monkey." It was all very close, so I just decided to print them all. Mostly because I want to own all of them myself!
A pity the stuff won't be arriving until early June, but I think it's all worth the wait!
Anyway, thanks so much to everybody who helped me to celebrate Blogiversary IV this year... you are much appreciated! Here's looking forward to another year.