UPDATE: THIS CONTEST IS NOW CLOSED! NO ADDITIONAL ENTRIES ARE BEING ACCEPTED!
As I mentioned yesterday, votes for the second shirt design to be printed are really, really close (and if you haven't voted yet, you can still get your choices sent in by clicking here). With no clear victory for second place, I've decided to change this last day of prize drawings, and put the money into more shirt prizes. That way, I can get the order quantities high enough that I can print and extra design or two.
So, in addition to the 5 FREE shirts I have for the T-shirt vote drawing, I'm adding another 25 FREE shirts for everybody who enters today's contest (all you have to do is pay the shipping costs!). That's 30 freebies total being given away for Blogiversary IV...
That's like uhhhhhh... $510 in shirts or something. This brings the total prizes for this year's blogiversary to over $1000, which is pretty sweet!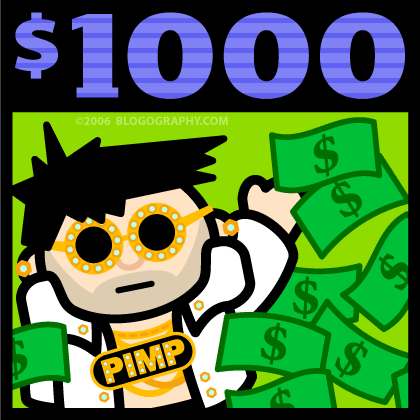 AND NOW FOR THE RULES...
If you have left 10 comments at Blogography for year-ending 25 April, 2007... all you have to do is send an email to CONTEST EXPIRED! and you're done!
If you don't have 10 comments, you now have to include correct answers to ALL SEVEN of the seven questions listed below in order to qualify (oooh! it's getting harder for you non-commenters!).
HURRY! Your entry MUST be received by TOMORROW: SATURDAY, APRIL 28th AT 9:00PM P.S.T. (Seattle time).
Winners will be revealed on Sunday, April 29th.
Okay then, if you didn't leave 10 comments in the past year, this time you have to answer ALL SEVEN of the questions below, and be sure to include the answers in your email entry to CONTEST EXPIRED! All the answers can be found in the Blogography History links listed below or by using the "Search Box" in my sidebar...
What items might possibly shoot out of my ass as a result of PayPal being a giant scam?
Who is the total whack-job that's a perfect 10 on my "Are You Insane?" diagnosis chart?
Which super-hero did I become for Halloween one year?
What will be located in the head of the gigantic statue monument I want to dedicate to myself?
What color lightsabers do the monkeys attack me with in that dream I keep having?
Which blogger did I run into, quite by surprise, at the Giant Glass Cube Apple Store?
When the gays invaded Chicago, what did I imagine they would be armed with?
Remember, the entry deadline is TOMORROW at 9:00pm P.S.T. (Seattle time)! Good luck!
10 BLOGOGRAPHY MOMENTS IN HISTORY, YEAR FOUR: 04/06-03/07

Dave discovers that PayPal sucks total ass because they stole his f#@%ing money!
Dave reviews the most magical breakfast food ever: Hello Kitty Pop-Tarts!
Dave creates his now-infamous alternatives for a hospital's lame "Pain Chart".
Dave decides to write a line of books for dumbasses.
Dave reveals his cross-dressing past.
Dave decides to build a monument to his greatness.
Dave has a dream.
Dave writes that entry about bluetooth headsets that gets him a lot of hate-mail.
Dave meets bloggers Eve and Dave3, then gets a shocking surprise on the streets of New York City.
Dave finds out that the gays have invaded Chicago.