UPDATE: THIS CONTEST IS NOW CLOSED! NO ADDITIONAL ENTRIES ARE BEING ACCEPTED!
Every year I release a new T-shirt to celebrate my blogiversary. First there was the classic Blogography Logo T, then came the Bad Monkey T, and lastly was the infamous Zombies Ate My Brain T (chosen by YOU, my loyal Blogography readers in last year's contest). Well, this year I came up with 32 different design ideas, and couldn't make up my mind which one to print. So I went to dinner with a group of friends, and we managed to narrow it down to a mere 7.
Since everybody did such a great job of picking a design last year, I'm going to put it up for a vote again this year.
And, to make it worth your while, everybody who votes will be getting a coupon for $10 OFF any Artificial Duck Co. Store T-Shirt purchase!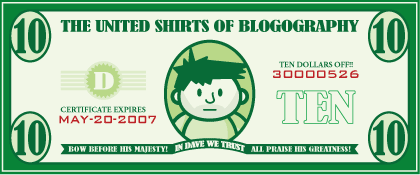 That means you can pick up a classic white shirt for just $5 (+ shipping)... or one of the new color shirts for just $7 (+shipping)*. And these ain't no crappy iron-on designs... no way! Each shirt is custom silk-screened on premium quality 100% cotton shirts for the ultimate in comfort and durability!
And, just because I love you, FIVE VOTERS will be put in a drawing to get a shirt ABSOLUTELY FREE... all you pay is the shipping charges!
It's almost too good to be true! So how do you vote? It's easy!
Take a look at each design below and decide which TWO shirts you like best.
Send an email to CONTEST EXPIRED! with your TWO votes... be sure to use a valid email address to send your vote so you can get your coupon!
But HURRY... your vote must be received by Saturday, April 28th at 9:00pm P.S.T. (Seattle time).
And here's this year's choices... you're voting for the TWO designs you like best...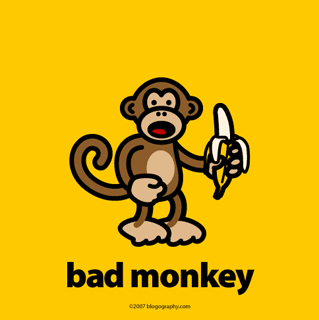 VOTE: Bad Monkey (on yellow)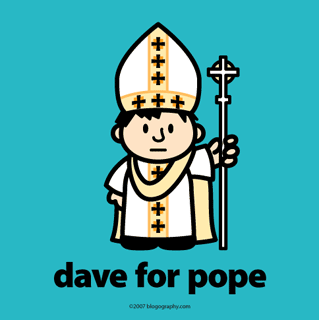 VOTE: Dave Pope (on teal)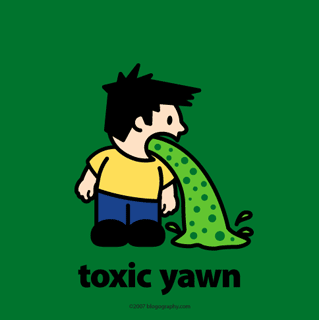 VOTE: Toxic Yawn (on green)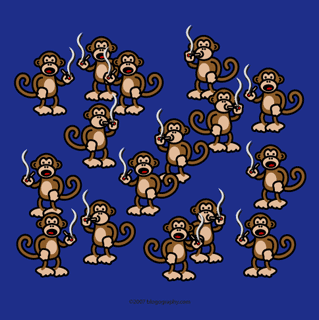 VOTE: Smoking Monkeys (on blue)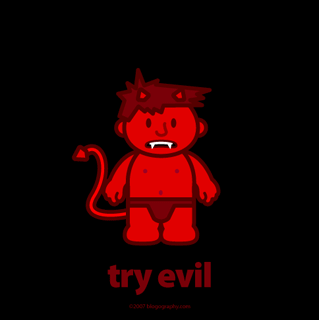 VOTE: Try Evil (on black)

VOTE: Little Geeky (on olive)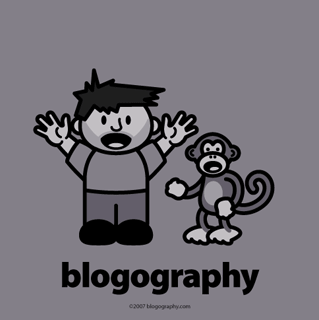 VOTE: Blogography (on slate)
Please be sure to follow the rules listed above to vote, and may the best design win!
10 BLOGOGRAPHY MOMENTS IN HISTORY, YEAR ONE: 04/03-03/04

Dave writes his very first snarky rant about 6 extra grams of fat on some daft bitch's lazy ass.
Dave first declares his love for Elizabeth Hurley.
Dave writes his first travel-blog on a trip to Iceland and Stockholm.
Dave rips apart a totally incompetent review of Kill Bill by James Berardinelli at "ReelViews."
Dave writes about a trip to New Orleans, pre-Katrina... one of his favorite cities.
Dave draws his very first DaveToon, featuring the first appearance of Bad Monkey on Blogography.
Dave writes that infamous entry about hating clowns which spawns his first hate-mail avalanche.
Dave writes about lame internet quizzes, and then makes up his own lame internet quiz ideas.
Dave finally writes about something personal, which turns out to be a fairly rare event.
Dave draws a DaveToon about brushing his teeth, which is still one of Blogography most popular links.
*PLEASE NOTE: Shirts will be printed in early June once all the pre-orders have been taken through the month of May. The prices listed above are for sizes S-XL. Larger sizes are available for an extra charge: 2XL is $1.00 extra, 3XL is $2.00 extra. Sizes bigger than 2X are not available in colors, but I'll be happy to print any design on a white shirt: 4XL is $3.00 extra, 5XL is $4.00 extra, 6XL is $5.00 extra.