Today is the day!
TeuilaCon 2007 started off early yesterday when I met Karl and Hilly at the airport for the 10-minute drive to The Kennedy School for check-in. There were tentative plans to have a pre-con meet up, so we had dinner and drinks at the restaurant while we waited. It was nice to catch up on old times, but a bit odd when you consider that I had never met either one of them before today... blogger meet-ups are like that.
Once Adena and Stacey arrived, we couldn't find a table anywhere at The Kennedy School (it's a popular place!) so we took a run to the Alameda Brew House not too far away. Then Neil and Sophia showed up for beer and big fun...

Hilly, Sophia, Neil, Karl, Stacey, and Adena at the Alameda Brew House
Then it was time to head back to The Kennedy School where we ran into Dustin (my new roommate) and went hunting for bloggers. After a while of wandering, we found Jenny, Brandon, Jill, Kimberly, Sibyl, and Vahid.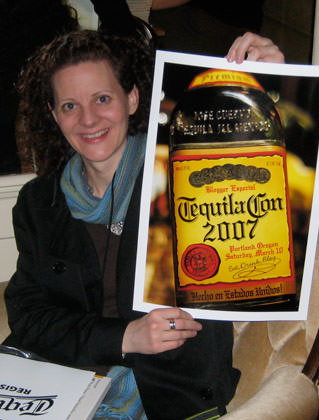 Jenny rocking the official TequilaCon 2007 poster.
This morning we're meeting up for super-fantastic French Toast at The Cadillac Cafe and then heading downtown to Powell City of Books. I'm sure there will be blogging updates as time allows.