After two days of life beating the crap out of me, today there was finally daylight... both figuratively and literally (so THAT'S what the sun looks like!).
The good news is that I no longer want to microwave my head. The bad news is that the events of the past two days will take weeks... perhaps months... to resolve. I'm a fairly private person, so I won't be going into details, but suffice to say that absolutely everything that could possibly go wrong in all aspects of my life decided to happen over the course of 48 hours. It was like experiencing TWO seasons of "24" but without the benefit of having Jack Bauer around to kick some ass. Just a lot of things around me going terribly wrong and shit exploding every fifteen minutes.
One thing I will say is that I have come to really, really hate my car.
If I was any sort of wealthy, I would crash my car into a gas station so it would become soaked with gasoline, toss a lighted match on top so I could watch it burn, then throw a massive party where everybody could hold hands and sing songs while urinating on the smoldering remains. Once the auto was thoroughly destroyed, we'd watch Elizabeth Hurley's masterpiece Bedazzled on a big-screen TV and eat chocolate cake...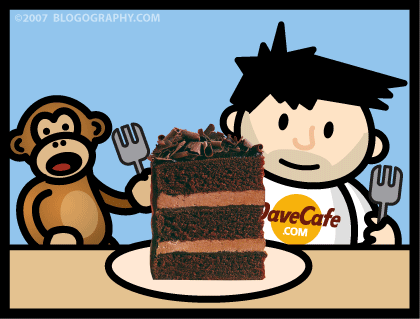 Amazing-looking chocolate cake recipe can be found at Southern Living Magazine.
Because it's not really a celebration unless there's chocolate cake at the end.
In other news, "massive penis" has entered my top-ten search referrals for 2007 despite the fact that it appeared only 12 days ago in my blog. Helpful hint for blog traffic whores: nothing will service your needs better than a massive penis. This does present a dilemma, however, because I don't know what the female equivalent should be. I would hate for it to appear that my blog is sexist, and want to be sure that filthy Google Search Results at Blogography aren't gender-biased. I'm leaning towards "tasty vagina" but think it might be difficult to work that into a popular blog entry without supplemental video of some kind.
Not that I'm unwilling to try, mind you.