For Macintosh whores like myself, tomorrow is the most important day of the year because it's time for MacWorld!
I both love and hate MacWorld. Love it, because Apple is probably going to introduce some cool new stuff. Hate it, because I'm bound to want all the cool new stuff... and it's always expensive.
Last year, I live-blogged from the keynote for the introduction of the iToast toaster...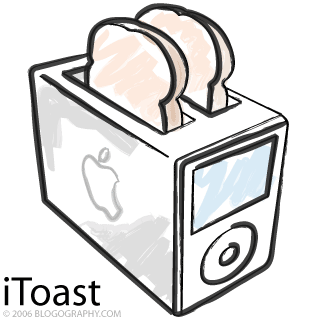 That was fun and all, but this year there isn't a live feed of Steve Job's keynote speech, so I guess I won't be live-blogging anything. Heck, I can't even find out if they will be re-broadcasting the Stevenote afterwards. As a Mac whore, I find this depressing.
Oog.
I've become one of those people that qualifies everything I say "as a Mac whore."
This reminds me of a former co-worked who qualified everything he said "as a Christian."
He was a nice enough guy, but the condescending way he constantly presented his Christian opinion as being superior to everybody else drove me insane. You could even be saying something nice to him, and he'd find a way to turn it around and make you feel inferior...
Dave: Hey, good luck with your class!
Christian Guy: As a Christian, I don't believe in luck... I believe in Jesus!
Even when you are obviously joking around, he's there to look down at your heathen ass...
Christian Guy: I wanted to go to the party, but everybody was acting freaky, so I left.
Dave: POD PEOPLE! They've been replaced by alien clones!
Christian Guy: As a Christian, I can't accept the concept of alien life.
It got so bad that I dreaded being in even simple conversations with him for fear of what might happen...
Dave: I can't decide if I want a Gordita or Chalupa from Taco Bell...
Christian Guy: As a Christian, I don't believe in Chalupas because they are fried. Gorditas are baked as God intended in Ezekiel 4:15... "I will let you bake your bread over cow manure instead of human excrement."
Dave: Gross!
Christian Guy: BURN IN HELL, CHALUPA-EATER!!
Fortunately, he quit the job after only a few weeks and took his holier-than-thou attitude with him.
And since I brought it up...
As a Mac whore, I prefer to think of Jesus as a Mac user.
UPDATE: Hey, I was right!