Ack! It's Bullet Sunday, but I'm running low on ammo!
• Thank you... Many, many thanks to absolutely everybody who has voted for Cupid to be released on DVD! According to my stats, 624 of you have clicked-through to vote, and I couldn't be more grateful. The show is now up to #2, and will hopefully end up ranking high enough to get Sony Pictures to notice. Yet, as grateful as I am that Sony is thinking about releasing Cupid, I am kind of pissed at the way they have structured the voting. First of all, you MUST vote for three shows, even if you don't like any of the other shows. Second of all, you can't give all your votes to the one show you want. This inflates the votes of shows that nobody cares about, and Sony should really find a way to make the voting reflect what people are actually wanting to buy.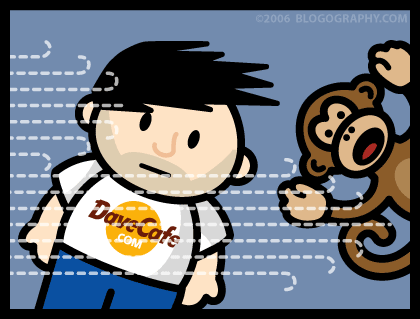 • Windy... The Wenatchee Valley has been hit with pretty horrendous wind storms for the past few days. This has resulted in numerous trees and power poles being blown over... wrecking houses and cutting power lines. Today while I was working, there were a half-dozen power brown-outs that kept killing my computer and taking my work with it. Wind sucks ass.
• Nintendon't... Speaking of suckage, there's still no Wii game consoles to be found anywhere. It's been weeks since Nintendo dumped a load of Wii for the holidays, and you'd think that they would have caught up to the demand by now. Yet the only place you can buy them is on eBay for 2 to 3 times the retail price. Kind of makes you wonder why Nintendo doesn't just jack the price up themselves if they know that the supply is going to be restricted. In any event, it's kind of funny that when you go to Nintendo's website that they're hitting you over the head with something you can't even buy. That's not very nice at all.
• Whore... Today I decided to add yet another volume to my series of Dumbass Books...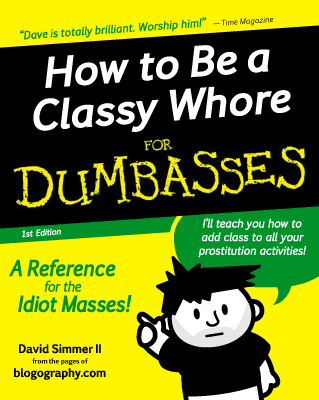 Because nothing is sadder than seeing a nasty whore sliding around a parking lot with holes in the ass of her stretch-pants. At least, I was assuming she was a whore, since I don't know many women who would explode in a flurry of obscenities after her child slipped, fell down, and got their new coat dirty. Never mind that the poor kid looked like he hurt himself and was already upset... screaming curse words at him while he's crying and struggling to get up makes makes me think you're nothing more than a big whore. You're certainly not much of a mother. And if you expect to make any money being a whore, you should at least try to be a little more classy. Like maybe wearing stretch pants that don't have holes in the ass and watching your filthy white-trash mouth in front of your kids. This book will explain it all using small words and pictures so even a stupid bitch like you can understand it.
Some people shouldn't be allowed to have kids.
Yeah, that's all I got. But next week is MacWorld, so I'm sure things will pick up...