You would think that I would be due some good karma after all the crap that I've been through this week.
You would be wrong.
It seems that karma isn't done raining shit on me just yet, which is always a good sign just as you are about to leave the country. It's at times like this that you start thinking of "mechanical difficulties" happening over the Atlantic and having to land in Greenland or something. Not that I'm badmouthing Greenland... I'm sure it's a perfectly lovely place in the middle of winter... it's just that I'm not ready to visit there yet.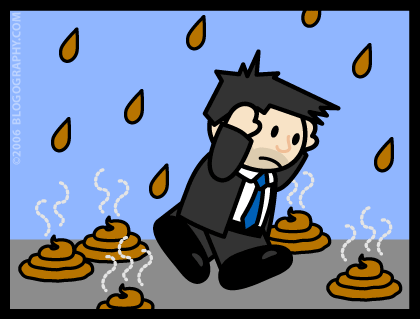 Take arriving at my hotel, for instance. If you were forced to choose one, which of the following horror stories would you least want waiting for you...
There's no hot water and you'll be taking a cold shower.
All the beds are infested with lice and you must sleep on the floor.
There's 24-hour high-impact dynamite blasting going on next door.
The internet is broken.
I would rather have A-C than D. Heck, I'd rather be kicked in the balls than D. Being without internet while away from home sucks total ass. So guess what the answer is? Why it's D, of course! No internet! CRAP!
With nothing better to do, I decide to go to the mall and get my hair cut. That's when I notice a brand new Johnny Rockets has opened up at the food court. My favorite restaurant! I love Johnny Rockets! But it's me we're talking about, so guess what happens...
You order a veggie burger and they accidentally slip you a dead cow burger.
They are out of veggie burgers.
The deep-fat-fryer is broke, so no fries with your veggie burger.
The cook uses an old burnt bun that's been sitting on the grill sweating, so it's crusted with char on the inside, mooshy and falling apart on the outside.
Yeah, it's D again. Why would you serve somebody a burnt bun with their hamburger? It's insane. Just throw the shit away... don't ruin a customer's dinner over something that costs 25¢! I have eaten at Johnny Rockets all around the country (and once when they had them in Japan) and have never had a bad meal until today.
At this point, I was terrified to get my hair cut. What else was going to happen? Would they accidentally stab me in the eye with the scissors? Would they scalp me a bald patch on the back of my head? What? Turns out it was none of those things. They somehow managed to cut my hair without inflicting any major damage.
Not wanting to press my luck, I decide to go buy me a new iPod Shuffle Clip and call it a night. I really wanted to buy a new "regular" iPod, but I'm waiting for them to add a bigger screen so I can watch videos. In the meanwhile, I'm perfectly happy with a new Shuffle. I think "cute" is the word that best describes it... and you just can't prepare yourself for how tiny it is... it's shorter than a jumbo paperclip!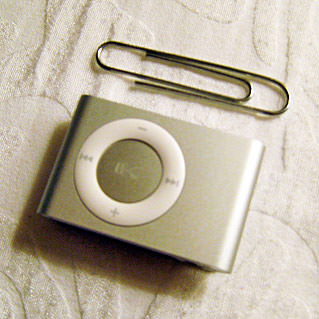 Here's hoping things start looking up for me in the morning.