Thanks to everybody who wrote such kind emails and comments during a tough day yesterday.
And many more thanks to those who are considering sending letters or care packages through Any Soldier. I honestly did not anticipate that, yet hundreds of you are clicking through to the site which means quite a lot to me. If only I had mentioned it sooner!
For those who have questions about this very worthy organization, I urge you to visit their site and read as much as you can. But, on top of that, I'll go ahead and add some things I've learned...
First of all, it is not necessary to spend $300 like I did. I was buying for four people, and went overboard because I was able to and wanted to. Anything you send is appreciated, and spending a fortune is not required. Even if you can afford to send nothing at all, you can still write a letter because all it costs you is a stamp. It has been said over and over again that the most requested items from soldiers are letters. Not everybody overseas gets much mail. Knowing that somebody... even a stranger... cares enough to write does more for their morale than you can imagine (hand-written letters show that you put the time in to care, and seem more personal than laser-printed letters or photocopies).
When it comes to what to say to a serviceman or servicewoman, it's always best to remember who you are writing to... somebody living in very dangerous conditions, far from home, who is missing their family and friends. It's also important to remember why you are writing... to offer encouragement and support. With that in mind, you can just put aside your personal opinions about the war being all f#@%ed up. Nobody knows this better than they do, and they don't need to be told that. Instead, try and realize that most of the people serving are doing the best they can to make a better, safer life for native Iraqis or Afghanis whose lives have been torn apart by war. This is what keeps them going through these very confusing times, and acknowledging that is a good place to start. Tell them what's happening back home. Tell them they are appreciated. Let them know you care.
When I send care packages, I usually don't have time to write, so I enclose simple notecards (with Lil' Dave dressed in Army, Navy, Air Force, or Marine attire as appropriate)...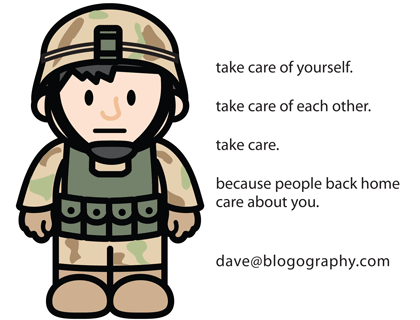 It's nothing extravagant, just a little note to say that I'm thinking of them, caring about them, and wishing them well along with sending a box of stuff. Hopefully it's enough to give a soldier a smile.
I always include my email address, just in case a soldier wants to write back and say "thanks" or even request something special they need. But it is critical to remember one thing... not all soldiers are able to write back!! They say this over and over on the Any Soldier site, yet I still visit forums and read about people complaining because they never got a thank-you note. This kind of thing drives me nuts, because these people have no clue as to what they are talking about. Just because you don't hear back doesn't mean your thoughts and gifts are unappreciated. It's nice when it happens, but I never expect it.
If you are interested in helping out, I've put further information in an extended entry. Otherwise, I will be traveling for the next 10 days, so entries may be posted late depending on whether I have internet or not...
The biggest question I've gotten is something along the lines of "Why do we need to send stuff? Aren't soldiers given everything they need?" The answer, as you might expect, is no. They are, at most, given the very basics... and even that is in limited supply. For example, these guys and gals are marching and hiking all the time, and their socks give out well-before their allotted time. This means people are walking around in harsh conditions with shredded socks which is unhealthy and uncomfortable. Food too is very basic. All the snack foods you enjoy are a rare treat unless somebody bothers to send it. "Just surviving" is a pretty harsh way to live, especially under constant threat, so sending treats and supplies is vital to morale and even survival.
• Socks? Seriously? Yes. And remember they will be worn in extreme temperature conditions, so 100% cotton is a must. Don't bother with poly or poly-blends, they just make your feet sweat and the situation worse. Also... I pre-launder the socks and include a note telling the recipient that they are clean and can be worn immediately. Clothing is often treated with formaldehyde and other chemicals, and it's not good to have that on your skin. Sending some foot-powder along with the socks keeps feet healthy and soldiers happy.
• Clothing. Sending clothes is always dicey, and I usually don't unless it's on the soldier's "wish list" (and then it's usually good-quality T-shirts). When buying clothing, remember the harsh conditions under which it will be worn, and purchase quality goods accordingly. Just like socks, I pre-launder any clothing, and bag it well to keep it clean so they can wear it right away.
• Bag and wrap everything. Liquids can rupture and ruin your entire package, so always double-bag them (I use tough freezer bags). Candies can attract insects and other critters so bag it. Smaller items can be lost, so put them together in bags.
• Box smartly! Don't put food items and toiletries in the same box. The high heat causes even sealed products to release their fragrance and it will then seep into other packaging. Those Ritz crackers you sent will end up tasting like shampoo or deodorant no matter what you do, so box them separately. Also, try to use smaller boxes weighing 10 pounds or less so they are easy to manage.
• Use flat-rate boxes. The post office has boxes which are charged at a fixed rate no matter how much they weigh. This can save you lots of money in postage, and I use them whenever I can.
• Pack it up securely. Don't ever use string, but use lots of tape. Over-tape everything. Double-tape corners. Plaster the bottom of the box in tape in case it gets set on something wet. Your box will go through absolute hell before it arrives, and you should plan for it.
• Don't forget the ladies! There are women overseas too, and it's important they not be forgotten. Being a guy, I don't know what the heck women want or need, so I have somebody shop for me. I've read several times that the ladies like to have occasional "girlie" time, so I always try to include exotic shampoos and soaps in their packages (AND BE SURE THEY ARE DOUBLE-BAGGED AND BOXED SEPARATELY FROM FOOD!).
• Don't forget the sailors! The most visual images on television and in the news is of Army soldiers and Marines... but there are Navy, Air Force and Coast Guard personnel serving in dangerous areas far from home too, and I try to send to them as well because I think they can be overlooked.
• Don't forget the kids! Sending small, non-breakable toys so that soldiers can make friends with local kids is a very nice thing to do. "Beanie Babies" are a popular choice, because they are compact and travel well. Be sure to bag them so they don't get dirty! Please remember to respect local customs and not send Christmas-themed or military-type toys and such. Different people have different beliefs and there is nothing wrong with that. Remember that children are children the world over, and caring about their happiness is building a future.
• Sending food? How will they eat it? I am forever forgetting to include some plastic knives, forks, and spoons for the canned foods I send. I then spend the next week feeling terrible, because I know that soldiers don't always have eating utensils available. Try to include them when you can. Likewise, it's nice if they can clean-up after eating, so include some moistened towlettes.
• Follow the rules. Certain items are not permitted for practical reasons or out of respect for local culture. Don't send anything containing nudity or pornography. Don't send ham or pork products of any kind. Don't send anything illegal. They don't need any more trouble than they've already got.
• Don't send crappy shit. I'm not saying you have to buy the best and most expensive of everything, but try and remember what you are trying to do here. Ask any guy... shaving in harsh environments is killer on your face. Do you really want to send them cheap-ass "6 for $1" razors? If your budget is tight, send a few GOOD razors instead of a bunch of shitty ones. Shaving gel is the same. Weak-ass crap does nothing to protect your face and prevent razor-burn... get the stuff in tubes that is good for them. Buy food that you would want to eat, not gross crap you find in the bargain bin. Send them foods they know and want to eat... it's money well-spent.
• Don't send anything breakable. Glass is just stupid... it will never make it. Can you imagine the happiness on a soldiers face as he gets a care package, only to open it and find everything busted to shit? Think about the durability of every item you send.
• Follow your conscience. As a vegetarian, I don't like to see animals killed for food. But, I realize not everybody shares my beliefs, and am able to put them aside to purchase much-loved beef jerkey and soups. That being said, there are some items I will not send, and that's okay. You are trying to do a good thing, and whatever your conscience allows will be greatly appreciated.
• Don't break your budget. Helping people is a wonderful feeling, and it's easy to get carried away. I always budget how much I can spend and am very careful not to exceed the amount.
• Check your address every time. Don't request an address unless you are ready to ship something that same day. Soldiers move around, get transfered, and are re-stationed all the time. Just because you sent to an address last month, doesn't mean it's any good this month... always check at Any Soldier to be sure you have a current address. Always.
As I said, most everything you need to know can be found at AnySoldier.com, and they have forums where people would be happy to help answer any questions you might have. Thanks again to all of you who would help with this very worthy cause... knowing that you are helping somebody out in a tough spot is a feeling unlike any other.