Because I have friends in the city, I've been to Köln (Cologne) here in Germany many times. This has its benefits. I know where everything is, I know how to get around, that kind of thing. But, like with any city I visit that I am already familiar with, I try to find new things to see and do to keep things fresh.
Naturally, I've been to the Kölner Dom (Cologne Cathedral) on previous visits. It's a major landmark for the city and pretty impressive. But I've seen it all before. I've studied the architecture, gaped at the stunning artworks, and marveled at the tiled floor with all those cool mosaics...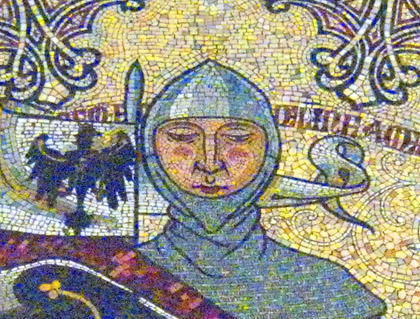 Herr Knight Sweetcheeks.
But what I haven't done is climb the spire. There are numerous reasons for this, but I'll narrow it down to the top five...
I am terrified of heights.
I am terrified of being in confined spaces with tourists.
I am terrified of Germans in high places*
I am terrified of old buildings that might collapse from age.
I am terrified of being so out of shape that I'll collapse on the way up.
But every time I pass on the opportunity, I always regret it on the way home. So this time I decided to throw caution to the wind and just do it. Finally I'll be able to say "I climbed this bitch!" when I see a picture of the cathedral or accost hapless tourists on the streets of Cologne.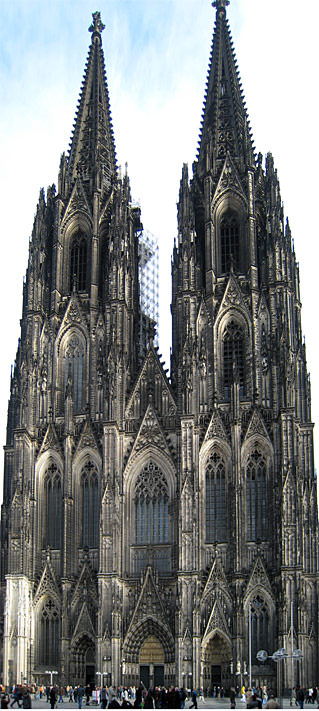 525 feet (160 meters) of sheer terror!
Yeah, well, I climbed this bitch, but I was stupid, stupid, stupid to do it. Not only was the climb completely terrifying, but I think I am dead. The good news is that my legs are so pumped now that I could probably jump over the cathedral in a single bound. The view from the top is pretty spectacular though (once you stop crying for your mommy long enough to take a look around)...

Oooh, look! Tiny people in that other tower! I'll have to climb that one next time (not).
After I managed to keep from vomiting on the way down, I decided to torture myself at the Hard Rock Cafe. For some reason, German HRCs have terrible service... but I can never figure out why. The staff is always friendly and running around, so it's not like they sit on their asses. Maybe they're just really over-extended? On the up-side, Cologne is better than Berlin, which has given me the worst service of any Hard Rock world-wide (I was seriously considering lighting myself on fire there once after waiting 45 minutes to get my check... all in the hopes that the flames would finally get somebody's attention).

Alles klar, Herr Kommissar?
Sure enough, it took a half hour to get an order of potato skins (no bacon) and 20 minutes to get a Pepsi refill. When I handed over my credit card, I fully expected that I wouldn't see my server for another 20 minutes. I was thrown into shock when she returned after only 10. Total time for an appetizer order and two glasses of Pepsi... 1 hour, 17 minutes. I timed it. Only about 10 minutes of which was spent eating.
I could have ordered dessert at the Hard Rock, but I didn't have another hour to kill because I wanted to hit a few museums. So instead I stopped off to have a SNACK WAFFLE!!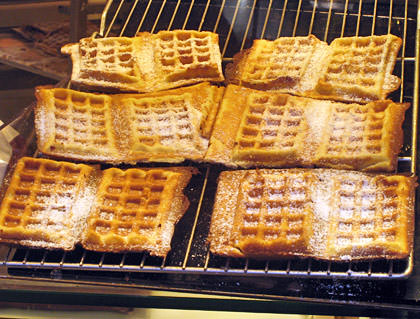 Not as good as the waffles at the Eiffel Tower, but still delicious!
After lunch, it was museum-time. I first went to the brilliant Wallraf-Richartz Museum to see if they had a special event showing but, sadly, the answer was NEIN! That's okay though, because the third floor alone is always worth the price of admission. They have some sweet impressionist and post-impressionist works I love, including a Monet that's terrific. In the paintings I've seen where Monet is capturing fog or snow, he uses pastels for shading instead of gray. The effect is quite beautiful, and looks different depending on how close you are to this foggy scene...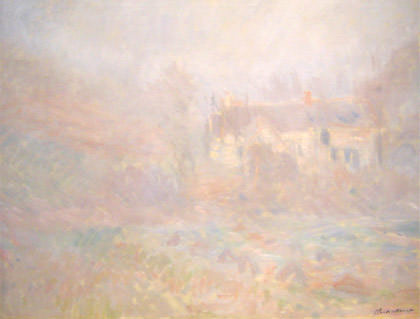 A similarly-styled painting that Monet painted of snow in Giverny hangs in New Orleans.
Then I was off to one of the best modern art museums on the planet... The Ludwig Museum... which was amazing, as always. This time was really cool though, because they had a mind-blowing Paul Klee event, filled with bunches of his pencil drawings and pre-painting study sketches. After looking at really cool art crap for two hours, I exited the museum and saw a group of people walk by dressed as pirates. That's when I remembered there was a Lego store over on Hohe Straße, so I thought I might check to see if they had any pirate Lego in stock. No pirates, but they did have viking Lego, which is pretty sweet.
By now it was approaching 6:00 and was starting to rain so I decided to call it a day (8 hours of constant walking and climbing on no sleep is pretty harsh). Oh yeah... I have to be up for work early in the morning too, so I figure I had best take my exhausted ass back to the hotel for an aspirin and sleep.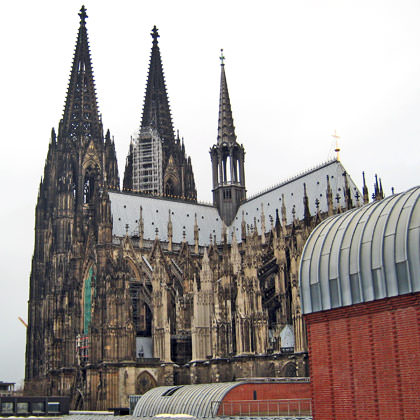 Looking back at Kölner Dom from the roof of the Ludwig Museum... I climbed this bitch!
Holy crap do my legs hurt. I hope I can get out of bed in the morning.
* Remind me to tell the story of nearly being pushed into The Grand Canyon because of a group of eager German tourists. These people are totally fearless when it comes to heights so, naturally, they scare the crap out of me.